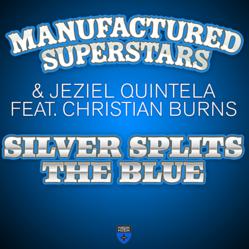 Even megawatt pop acts Pitbull and Chris Brown have taken notice of the Manufactured Superstars and hired them for remixes.
New York, NY (PRWEB) March 13, 2012
Live from the party capitol of the world, the hit-making duo known as the Manufactured Superstars uncork their latest jewel of a song with the single, "Silver Splits The Blue" (Big Beat/Black Hole) featuring vocals by Christian Burns on March 13th, 2012! Created in collaboration with rising-star producer, Jeziel Quintela, "Silver Splits The Blue" is ripe for the picking and ready to roar into summer as a current feel-good singalong tune. With a package of remixes by the best and the brightest producers in EDM (electronic dance music), including the original superstar DJ, Paul Oakenfold, "Silver Splits The Blue" will be blaring from car stereos all summer long. With Christian Burns' irresistibly catchy melody over the Manufactured Superstars' and Quintela's pulsating beat, "Silver Splits The Blue" is an exuberant, head-bobbing dream come true.
The Paul Oakenfold Remix of "Silver Splits The Blue" comes out hard with an unimaginably fat sub-bass and swooshing synths that carry Burns' vocals on climactic builds towards sonic ecstasy. The J. Flash & Tyler Blue Remix lays a breakbeat underneath Burns' vocals, turning the track on its head by injecting an electrifyingly syncopated dubstep. The Dragon & Jontron Remix bends the song into a progressive-house ditty with a rich, warm bassline that envelopes the listener from the first note to the last. The Brian Matrix Remix is a thumping, mysterious-sounding version of the song, conjuring up images of Burns in a hazy landscape borne aloft by soaring chords and an insistent, marching beat. The Jquintel vs Jaceo Remix pares the percussion and inserts vocal stabs, bringing the track into the underground for a thrilling aural ride that's as bouncy as it is lively. The L.A. Riots Remix is a tsunami of an effort replete with a magnificent, monstrous build and ensuing crash sure to shake soundsystems from their foundations. The Extended Mix is direct and straightforward, with Burns' vocals front-and-center; the Manufactured Superstars & Jeziel Quintela elaborate on their instrumentation until it becomes a beseeching ode to longing. The Radio Edit extracts the pure essence of the song and boils it into a taut nugget of beguiling fun. Even the music video for "Silver Splits The Blue" is sexy, this one featuring U.F.C. Octagon Girl and Playboy and Maxim model, Arianny Celeste. The video was shot in Las Vegas at XS Nightclub (where the Manufactured Superstars are entering their second-year DJ residency).
Traveling the world to DJ live in front of adoring audiences at the biggest festivals and best nightclubs is all in a day's work for the Manufactured Superstars (aka Bradley Roulier and Shawn Sabo). Sleep is a luxury when hungry crowds await the duo at festivals including: Electric Daisy Carnival, Ultra Music Festival, Identity Festival, Nocturnal Wonderland, Red Rocks/Global Dance, Lief Festival, and others. Fans pack into superclubs and party late-night, as well, and venues clamoring to book the pair include: XS Nightclub in Las Vegas; Beta Nightclub in Denver; Pacha, Lavo, Greenhouse and others in New York City; Playhouse in Los Angeles; LIV in Miami; Fluxx and Voyeur in San Diego, and countless others. Even still, Roulier and Sabo – the former a founding member, and the latter an original employee of seminal music download store, Beatport – carve-out time to record new music in their studio. The Manufactured Superstars have had top-charting radio hits including "Take Me Over" featuring Scarlett Quinn which aired for months on Sirius XM Radio, and the video for that single also hit the top 5 on Canada's BPM-TV. Mainstream pop acts have also begun to take note of the Manufactured Superstars, with mega-watt artists like Pitbull and Chris Brown contracting the Manufactured Superstars for remixes. One thing's for sure: there is nothing manufactured about this twosome's success.
For all press/PR/interview requests, contact EMILY TAN MEDIA RELATIONS, +1(917) 318-3758, EmilyEmilyTan(at)aol(dot)com. For management, contact Skam Artist, sujit1(at)skamartist(dot)com. For booking inquiries, contact AM Only, matt(at)amonly(dot)com. Visit http://wearebigbeat.com, http://www.manufacturedsuperstars.com and http://www.blackholerecordings.com.
# # #