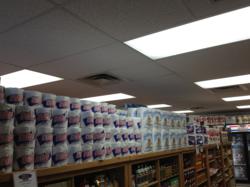 Elma, NY (PRWEB) March 12, 2012
The Made In America Store is known for its commitment to selling products that are made in the USA. All components of every product sold in the store have to be American made, right down to the plastic packaging. Daisy offers consumers something more than most paper product companies and that is that all their products are 100% American made.
U.S. Alliance Paper Incorporated, the company that manufactures Daisy paper products, is a privately owned paper manufacturing company that focuses on making and packaging a higher quality paper product. The company specializes in manufacturing toilet paper, paper towels, dinner napkins and facial tissue.
With Daisy's higher quality products and American made policy the company was a perfect candidate for the Made In America Store, Currently customers can purchase single and four pack rolls of toilet paper, single rolls of paper towels, 250 count napkins and two different boxes of tissues.
Daisy paper products fit right in next to the rest of the home and living department of the Made In America Store.The home and living section of the store offers candles, kitchen towels, baking sheets and much more.
The Made In America Store is located at 900 Maple Road, Elma New York and sells 100% American Made Products, right down to the packaging. You can visit http://www.SaveOurCountryFirst.com for more information on events, news articles and shop these home and living products and more US manufactured products.