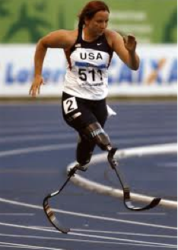 NO EXCUSES! MOVE FORWARD WITH YOUR LIFE NO MATTER THE OBSTACLES.
Los Angeles, CA (PRWEB) March 13, 2012
Katy Sullivan was born without legs. Katy learned to walk on her knees. Now with prosthetics, she is a national competor in the 100 Meter run, at 17 seconds. Katy Sullivan in addition is an actress, singer, and motivational speaker with her amazing pair of legs: metal legs from the top of the knees down.
"I am a bi-lateral-above-knee amputee" begins Katy Sullivan as she introduces her story on the Dr. Carol Francis Talk Radio Show: Make Life Happen. Her complete interview conducted at the IHF conference can be heard on BlogTalkRadio.com/dr-carol-francis. Katy Sullivan was the keynote luncheon speaker at International Hypnosis Federation's Conference called "Its All About You." She is a radiant individual with a story about making the best of being born without legs. During this radio interview, Katy Sullivan reveals that many doctors, teachers and well-meaning individuals tried to discourage Katy from becoming an athlete among other feats.
Katy Sullivan, during this radio show, discusses her life including teen-dating, feminine identity, being married, acting opportunities, being on the US para olympic track team, helping children without limbs as a mentor and example, conference and motivational speaker. Her story will inspire everyone to press forward in life regardless of the circumstances that make progress difficult to manage.
Katy Sullivan wishes to encourage all individuals with prosthetics to create a fulfilling, enjoyable and successful path of life. Her promotion of a great life with prosthetics can be viewed at hanger.com.