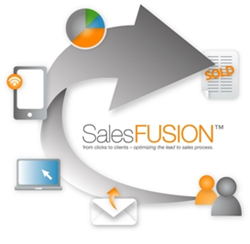 Atlanta, GA (PRWEB) March 13, 2012
SalesFUSION™, the maker of SalesFUSION 360, an integrated sales and marketing demand generation platform, today announced it has released for general availability its new Facebook Landing Page and Publishing solution as part of its expanding b2b social media marketing suite.
SalesFUSION is a provider of enterprise marketing automation software designed for B2B companies. The SalesFUSION360 marketing platform provides a host of core marketing technology including email marketing, lead scoring, landing pages, web visitor tracking and marketing to CRM integration. The newest edition to the b2b social media marketing toolset within SalesFUSION is the Facebook Landing Page and Publishing tool.
Said Kevin Miller, EVP Marketing and Sales for SalesFUSION; "We're very excited to announce the official launch of our Facebook landing page and publishing solution. This new tool is part of SocialFUSION, which represents an integrated suite of practical and easy to adopt b2b social media marketing tools. As the social media channel continues to expand and permeate the daily lives of our customers, we want to be the one-stop solution for everything from email marketing to PPC to social media."
SalesFUSION Originally released its first b2b social publishing solution and URL shortener, IttyBitty, last year and it has been well received and adopted by SalesFUSION's client base. Said Miller; "One of the biggest challenges b2b marketers face relative to social media marketing is knowing where to begin. Too many marketers employ 'Me Too' tactics for networks like Twitter. They post in social networks but don't really know the efficacy of these efforts. Our social media tools exist within the platform where the marketer spends most of their day anyway. And we focus on tangible and easy-to-adopt technology that virtually any marketer can learn in an hour."
The Facebook publishing solution allows a user to launch and build multiple offers, landing pages and other content using a template library that, like email templates, are simple to build and update. The landing page designer facilitates the deployment of a Facebook landing page and pre-encodes the page with SalesFUSION web forensics code (website visitor tracking and profiling solution). The encoding generates details reports on who is accessing your Facebook pages and ties these metrics into other common processes in the SalesFUSION platform such as lead scoring and lead alerts. Licensed on a per-user basis, the solution is very cost effective starting at $50 per month for 3 users. Learn more about Facebook landing pages from SalesFUSION.
About SalesFUSION
SalesFUSION 360 provides software that accelerates revenue by connecting sales and marketing with prospects at the moment they are ready to buy. This is made possible through the SalesFusion 360™ suite, which complements Sales Force Automation applications by adding an on-demand enterprise lead management service. SalesFUSION 360 increases lead quantity, lead quality, and revenue conversion rates by integrating and automating the lead management process. For more information, visit http://www.salesfusion.com.