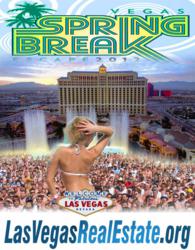 Spring Break 2012 Brings Future Las Vegas Real Estate Buyers and Investors
Las Vegas, NV (PRWEB) March 12, 2012
Las Vegas luxury condos and specifically "condo hotels" are capturing the attention of savvy college students discovering them over Spring Break. Las Vegas consistently tops the 10 Best Cities for Spring Break due to its weather, pools, gambling, nightclubs, celebrity entertainment and now real estate opportunities. As college kids flock to participate in their rite of passage they are crossing paths with the Las Vegas real estate market at historic 20-year lows and discovering they can purchase a piece of luxury property for as little as $112K.
"Condo hotels" are large, high-rise, luxury hotels that sell a a condo unit to individual investors who may use their unit as a vacation home whenever they like. LasVegasRealEstate.org cites the 3 most popular Las Vegas condos hotels as the MGM Signature, Palms Place and Trump with MGM Signature condos for sale being the most popular with 180 condos sold in the last 12-months. When owners are not using their unit they have the option of placing it into an organized rental program. Rental-revenue, which is shared with the operator, helps defray the owner's expenses and in most cases produce a profit.
Ashley McCormick of Realty One, Nevada's number one Las Vegas real estate company, says owners have a Las Vegas luxury condo in a premier location at their disposal. They can choose to stay in the unit year-round just like a condo or rent it out when they are not in Vegas. The on-site management company takes care of all upkeep, maintenance and interaction with renters. In the last 12-months Las Vegas high rise condos for sale have seen record sales with 90% of buyers paying all-cash.
McCormick also noted that Las Vegas condo hotels have features and services that enhance their appeal to potential buyers as well as future renters. Typical amenities are spas, health and fitness centers, fine dining, business centers and more. Owners of condo hotel units have the right to resell their unit at any time and keep any profits derived from appreciation. For more information on MGM Signature, Palms Place or TRUMP Las Vegas - contact Ashley McCormick at 1-702-523-0916 or search all Las Vegas condos for sale online at http://www.LasVegasRealEstate.org