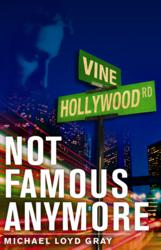 "From birth to death, the American disease seems to be the need to get into someone else's skin."

"I was a man with all means in the world and none of the purpose of much poorer people."
(PRWEB) March 14, 2012
Contact: Vilain-Innovations – Literary Agency
Tel: +1 646 845 9773
E-mail: info(at)vilaininnovations(dot)com
NOT FAMOUS ANYMORE
a story about the value of fame and discovering true self
In Michael Loyd Gray's new novel, "Not Famous Anymore," recipient of a grant from the Elizabeth George Foundation, the main character is Elliott Adrian, a famous actor of questionable skills who bottoms out in Hollywood and emerges from rehab to put the American Dream into reverse: he desires to not be famous anymore. After a short exile in Loreto, Mexico, Elliott's road trip takes him from Arizona to Arkansas and then his hometown of tiny Argus, Illinois, where he discovers the girl he was briefly married to in high school has a daughter he never met. Along the way Fox News offers a reward for anyone who can find Elliott, and, once in Argus, Elliott learns he can't quite escape from fame and must learn to straddle both worlds – Hollywood as well as Argus.
From MacArthur Fellow Stuart Dybek, author of "I Sailed With Magellan"
Michael Loyd Gray has fashioned a story about this American century's defining subject, celebrity, and married the subject to the lean, fast-paced style of the noir thriller. The result is a highly readable, totally engaging novel.
Excerpt, "Not Famous Anymore":
2007
IT
The less their ability, the more their conceit.
-Ahad HaAm
The more you overtake the plumbing, the easier it is to stop up the drain.
-Scotty, Star Trek IV
All I asked for was a hand job. You'd think I'd asked for the world.
"You're not Elvis," Beverly said. "Elliott, do you think you're Elvis?"
Just a good, solid hand job. Firm grip. Decent stroke. A little palm grease.
"Do I think I'm Elvis?" I pondered a moment. "No, but I bet Elvis could have gotten a hand job."
Beverly Madigan was my personal assistant. That's not the same as my agent. I wouldn't ask my agent for a hand job. That's just not done. And besides, I'm pretty sure he would have said no.
"Elvis was loveable, Elliott." She didn't look up from her laptop. "Elvis had charm. If Elvis got hand jobs it was because someone wanted to. Not because he was bored."
I was bored right down to the short and curlies.
"Maybe so, Bev. But Elvis probably would have asked for the whole taco."
"Do you think?" she said. "Well, he would have done it with more class. And please don't call it a taco, Elliott. That's crude."
"Sorry. I thought it had flair. Not so much, I guess."
Beverly squinted at me the way you might squint at a lizard climbing a screen door. "You don't really want a hand job, Elliott. You just want attention."
"No, I want a hand job. Attention is overrated. Hand jobs aren't."
Beverly was a dull and slack-jawed blonde, but pretty, and she had large hands for a woman.
I'd eyed those hands more than once. Vise grips.
"I could ask one of the maids," she said. "How about the limo driver?"
"He's a he, Bev. Not my type."
"He's also gay," she said. "I'm sure he'd be happy to oblige."
"No, thanks. But I appreciate the offer. You're thoughtful."
"Pretty picky for a guy desperate for a hand job, Elliott."
"I'm not desperate."
"Then have you considered just handling it yourself?"
She sure had a tart tongue. "That takes all the fun out of it, Bev."
"Get a grip, Elliott."
"Good one. A real zinger. I'm impressed. Will you watch and talk dirty to me?"
She smirked.
"Just pretend you're me and talk dirty to yourself. C'mon, Elliott, you're an actor."
"So they tell me."
From novelist Monique Raphel High, author of Between Two Worlds:
"Gray bores deeply into each of his characters, shoving aside all extraneous elements until we are left only with their humanity."
From Russell Bittner, author of Trompe-l'Œil
"I have to give Michael Loyd Gray appropriate credit for accomplishing something no other author has accomplished—at least in my reading—since Elmore Leonard: he makes his characters come alive on the page through their dialogue. At times, that dialogue may seem trivial. But the truth is, most dialogue in life is trivial. The trick for an author is to make it believable, and Gray does that in spades. He brings his characters to life through what they say and how they say it—and whether we like them or not, we have to believe them for what they are."
Talented Michael Loyd Gray has been awarded various literary prizes for his fiction. He won the 2005 Alligator Juniper Fiction Prize and the 2005 The Writers Place Award for Fiction. His novel Well Deserved won the 2008 Sol Books Prose Series Prize. He has written a sequel to Well Deserved called The Last Stop. December's Children, another novel by Michael Loyd Gray, was a finalist for the 2006 Sol Books Prose Series Prize and is forthcoming in 2012 from Sol Books as the young adult novel King Biscuit. Michael Loyd Gray's novel Not Famous Anymore is available from Henschelhaus http://henschelhausbooks.com and Amazon.
If you want to know more about this novel or would like to schedule an interview with the author
Michael Loyd Gray, e-mail: info(at)vilaininnovations(dot)com or call: +1 646 845 9773