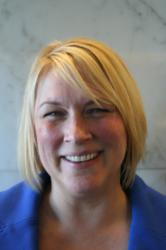 Laura's customer focus, industry knowledge, and financial savvy are a tremendous asset.
(PRWEB) March 12, 2012
Discovery Health Partners, a provider of cloud-based healthcare cost containment solutions, announced the addition of its newest executive management team member, Laura Cohen. As Director, Client Advocacy and Coordination of Benefits (COB), Ms. Cohen serves as an ambassador for client engagements and manages new client onboarding and customer relations, including retention, growth, satisfaction, reporting, and business development. Dually, Ms. Cohen oversees operations and product development for Discovery Health Partner's COB offering.
"Laura's extensive experience directly aligns with our priorities, which are to continue serving our growing roster of customers with excellence; further build and differentiate our COB solution; and expand the business," said Paul Vosters, President and Chief Operating Officer of Discovery Health Partners. "Laura's customer focus, industry knowledge, and financial savvy are a tremendous asset."
Ms. Cohen brings a 20-year track record in health insurance customer service, business development, financial operations and administration, and profit-building. Prior to joining Discovery Health Partners, Ms. Cohen was Vice President of Operations at ACS Recovery Services, a Xerox Company. In this role, Ms. Cohen had complete responsibility for all claim overpayment identification and recovery services for large healthcare payers. Her achievements were numerable, including significant revenue and profit growth, division performance optimization, increased staff productivity. In 2009, Ms. Cohen was named Line of Business Innovator of the Year. She also earned the designation of Lean Six Sigma Champion.
Previously Ms. Cohen served in the capacity of Line of Business Controller at ACS, where she was responsible for transitioning all Primax Recoveries financial reporting, cash management, human resources, payroll and benefit functions to ACS after acquisition, and handling ongoing reporting to ACS corporate thereafter. Previous to the ACS acquisition, Ms. Cohen was Chief Financial Officer/Controller for Primax. Earlier in her career, Ms. Cohen worked at BABCO Investments as Controller/Consultant and at Advanced System Applications in various financial and accounting roles.
About Discovery Health Partners
Discovery Health Partners helps organizations reduce and contain healthcare spend through intelligent cost containment solutions. We specialize in technology, services, and solutions for Subrogation, Overpayment, and Information Analytics. Our mission is to help health payers and self-insured organizations produce savings in excess of 10% of annual paid claims by integrating advanced technology, information analytics and improved business process for superior identification and transparency. Working with Discovery Health Partners, clients realize improved recoveries, reduced cost, better control, and new levels of insight. Discovery Health Partners is a division of LaunchPoint, a provider of enterprise-class information-centric services and solutions. Learn more at http://www.discoveryhealthpartners.com.