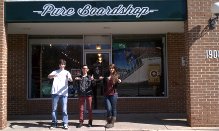 "Our store's visual merchandising is as important as the products we sell, our brand mix and our product knowledge," states shop owner Robby Roberts."We keep our store as good lookin as our employees in leather jackets."
Annapolis Maryland (PRWEB) March 13, 2012
Pure Board Shop, in Annapolis Maryland, is taking on a new look to start the 2012 spring season. The staff at Pure is excited to show off the new look they have achieved by creating new logos and a streamlined, clean look to the store's interior layout.
In retail commerce visual display merchandising means maximizing merchandise sales using product design, selection, packing, pricing and display that stimulates consumers to spend more.
The interior of Pure is more open and the products the customers are looking for are easier to locate. This not only leads to a more pleasant shopping experience but also to add on sales by allowing the customer to discover more matching pieces to put together.
Keeping an eye on departments that show growing sales the management at Pure has also expanded their already large skateboard and longboard sections.
"With the warmer than average winter we experienced in Maryland this year, it was skateboards, longboards and shoes that kept us busy," says Pure manager Rad Josh Menocal. "Snowboard sales were definitely off this year, especially coming off of two great cold and snow filled winter seasons."
In the broadest sense, merchandising is any practice which contributes to the sale of products to a retail consumer. Pure's merchandising program not only takes place inside their store but with other promotions they do. Teaming with local alternative radio station, WRNR, and in exchange for radio advertising, Pure gives away a surfboard, snowboard or a longboard twice a month at a local club during the local music night. This brings customers into the store who might not otherwise have ventured into a skate/snowboard shop. They are able to discover that Pure carry's a product mix targeted at a diverse age market.
Pure also puts on local skateboard contests with the help of their skateboard team. After the comp it's back to the shop for a BBQ, awards and more sales.
Excitement is evident in the enthusiasm everyone involved with Pure Board Shop displays. With the health of the local economy and the sincere appreciation the community shows to the local business, 2012 looks to be a great year.
About Pure Board Shop:
Located at 1908 Forest Drive, Annapolis Maryland, Pure opened its doors in 2005.
Pure is Maryland's premiere skate, snow, surfboard and streetwear shop. Always a full-service shop, Pure emphasizes its staff's product knowledge, 17 years of experience and the exclusive mix of brands and products they sell.
Pure Board Shop is one of the few stores in the area to sell Nike SB, Adidas Skateboard shoes, HUF clothing and shoes, Diamond, The Hundreds and Landyachtz longboards.