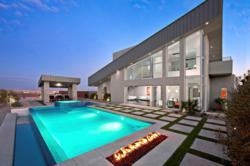 "For most Americans, our homes are the largest investments we have. It's important to get the best return when we sell."
Boston, MA (PRWEB) March 13, 2012
With PlanWorx™, homeowners gain more control over the budget and schedule of their outdoor living project through innovative design and accessiblility. Homeowners can receive comparative bidding by presenting the same set of construction plans to various landscape and pool contractors. If a homeowner wishes to implement a DIY (do-it-yourself) strategy, PlanWorx™ can reduce the labor costs by up to 40% and open scheduling options to phase various parts of the project over time.
"Our landscape design services are help homeowners who are trying to maximize their return on one of their largest investments, by lowering costs and offering a friendly alternative to the traditional way of shopping for a landscape contractor. We feel it is important for consumers to know what they are buying and getting apples-to-apples bids from different contractors will help them be more informed and gain more buying power" said Robert Knaak, Principal and founder of Knaak Design Group.