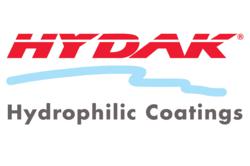 Horsham, PA (PRWEB) March 15, 2012
Biocoat, Inc., maker of lubricious HYDAK® hydrophilic coatings for medical devices, has made available a new informative 8-page technical white paper that examines the parameters and test results of Pinch Testing hydrophilic coatings.
The white paper's introduction reviews the parameters of four commonly used methods of testing hydrophilic coatings for lubricity and durability, pointing out that the results can be highly variable from facility to facility and from test to test.
The white paper then outlines the materials, methods and test results of a Pinch Test for a selected HYDAK coating. Its purpose seeks to reveal the changes in lubricity and durability that could occur when one or more of the following parameters are varied: the pinch pad material, the substrate material, the speed of the test, and the Normal Force or Load on the test article. The variables and results of each of the test findings are discussed in depth and graphically depicted for designers to better visualize. Conclusions are drawn and critical questions for evaluating the test data are summarized at the end of the paper pointing out issues for further consideration.
For a mailed copy of Effects of Testing Parameters on Pinch Test Results for Hydrophilic Coatings, contact Dr. Josh Simon, Senior Product Manager at 215-734-0888, Ext. 115. Or, you can download a free PDF of this new white paper by visiting http://www.biocoat.com and clicking on the "Downloads" home page menu button.
###
Biocoat, Inc. is research and development company with core competencies focusing on coatings development and licensing. The company enables its clients to tailor its HYDAK* and other coating technologies to specific surfaces, and acts as a support network for development and manufacturing throughout the project/product life cycle.