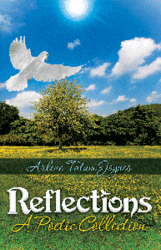 (The author) isn't afraid to tackle tough issues.
Cape Charles, VA (PRWEB) March 14, 2012
Writing from the heart is nothing new for author Arlene Tatum Joynes. This new collection of poems, chosen from almost four decades of writing, features topics ranging from life and death to iconic figures such as Oprah Winfrey, Michael Jackson, Martin Luther King Jr. and President Barack Obama.
Poems in "Reflections" feature topics from daily life, such as the passion described in "And It Was Beautiful" and the hard work mothers must do to care for their families in "Tribute To My Mothers," dedicated to the author's mother and grandmother. The author also delves into the many aspects of love, from a missed opportunity in "Words Left Unsaid" to love outside of marriage in "When Wrong Feels So Right," where she writes "Do you just forget the vows; forget the past and enjoy the nows? Do you throw caution to the wind and hope the broken heart will mend?"
Joynes isn't afraid to tackle tough issues, writing about a homeless child in "Homelessness," King's achievements, Obama's historic election as president in "Flowing Tears of Hope Realized," and the pain of being barren in "Like a Woman" and "Childless." The final two selections in the book showcase work by Tianna Monet Tatum-Fisher. "A Bird Like Me" focuses on the insecurities of a student, while "Winter Storm" compares the forces of nature to the forces of friends, blessings and problems in life.
For additional information, please visit http://www.loverhapsodies.com.
Reflections: A Poetic Collection
Arlene Tatum Joynes
Dog Ear Publishing
ISBN: 978-1-4575-0875-2 88 pages $12.95 US
Available at Ingram, Amazon.com, Barnes & Noble and fine bookstores everywhere.
About Dog Ear Publishing, LLC
Dog Ear Publishing offers completely customized self-publishing services for independent authors. We provide cost-effective, fast, and highly profitable services to publish and distribute independently published books. Our book publishing and distribution services reach worldwide. Dog Ear authors retain all rights and complete creative control throughout the entire self-publishing process. Self-publishing services are available globally at http://www.dogearpublishing.net
and from our offices in Indianapolis.
Dog Ear Publishing – self-publishing that actually makes sense.