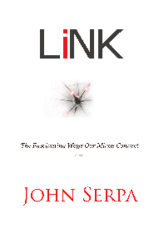 When minds link, great things can happen, whether it's producing life-saving drugs or producing amazing results in an inner-city school.
Chicago, IL (PRWEB) March 30, 2012
The mind can be a mysterious thing, but analyzing how minds work together in an organization is the author's specialty. In this new book, John Serpa describes how minds become linked and how to put that link to work to benefit organizations of all sizes in concrete, cost-saving ways, whether it's a school, sports team, business or hospital.
In, LiNK:The Fascinating Ways Our Minds Connect, Serpa details the neurological process behind linked minds, such as the "mirror-neuron effect," in which mirror neurons go into action when an individual sees tasks another person performs. As he writes, "the mirror-neuron effect also enables the observer to adopt the point of view and intent of the person he observes … with mirror neurons acting as a primer for a motor response, which can lead to imitation." That imitation can lead to empathy, an often-overlooked advantage in organizations, he writes.
Backing up his experience with scientific studies and specific suggestions, Serpa presents an engaging new perspective on how organizations can become more productive, often without expense.
Author John Serpa is a public speaker and life-sciences professional who has spent more than 25 years linking minds of people within organizations ranging from Fortune 500 companies to small nonprofit groups. He has undergraduate degrees in biology and organizational management and an MBA from The Johns Hopkins Carey Business School. "LiNK" is Serpa's first book.
----------
For additional information, please visit http://www.johnserpa.com.
LiNK: The Fascinating Ways Our Minds Connect
John Serpa
Dog Ear Publishing
ISBN: 978-1-4575-0816-5 304 pages $16.99 US
Available at Ingram, Amazon.com, Barnes & Noble and fine bookstores everywhere.
About Dog Ear Publishing, LLC
Dog Ear Publishing offers completely customized self-publishing services for independent authors. We provide cost-effective, fast, and highly profitable services to publish and distribute independently published books. Our book publishing and distribution services reach worldwide. Dog Ear authors retain all rights and complete creative control throughout the entire self-publishing process. Self-publishing services are available globally at http://www.dogearpublishing.net
and from our offices in Indianapolis.
Dog Ear Publishing – self-publishing that actually makes sense.