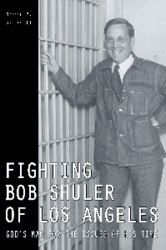 This new book by his grandson tells the story behind this preacher, prophet and activist who fought corruption and evil in all shapes and guises.
Irvine, Calif. (PRWEB) March 20, 2012
This new biography reveals the life that shaped "Fighting" Robert Shuler, one of the first radio ministers and a polarizing figure in the West. People listened and rallied to this larger-than-life figure who considered the whole world his parish. This new book by his grandson tells the story behind this preacher, prophet and activist who fought corruption and evil in all shapes and guises. His words reached not only the 5,000 members of his Los Angeles congregation but hundreds of thousands of international radio listeners.
The author draws on family experience, documents, newspaper accounts and oral history, his grandfather's writings, and 30 years of research by his father – who traveled to each of "Fighting Bob's" assignments around the nation – to reveal what shaped Shuler. Shuler's faith began to form at an early age in the small mountain settlement on a Virginia mountaintop he called home, following a family tradition of preaching and evangelizing. Although he moved away when he was 12, the mountains stayed with him in his views of God's presence in nature. He began as a supply preacher even before his formal studies at Emory and Henry College; he missed an entire semester pasturing in Elizabethtown for six months. Shuler's success at new converts to the annual conference led to his ordination as a deacon before he graduates from Emory and Henry.
Leading the large and wealthy First Methodist in Temple, Texas – a city with crooks and political scoundrels – shows Shuler the power of molding the character of a city as he works to empower prohibition. His continuing battle against drinking and injustice continues in other Texas pastorates, and he eventually gains an appointment to Los Angeles – where he will find his true ministry. He takes on everything from crime, gambling and liquor to the immorality of Hollywood stars like Charlie Chaplin and Fatty Arbuckle, gaining the nickname "Fighting Bob." His colorful history in the city of angels, popular radio broadcasts and inspirational writings leave an unforgettable legacy.
Author Robert Shuler III, named for "Fighting" Bob Shuler, is a fifth-generation Methodist minister who has spent four decades serving pastorates in Southern California and Hawaii. He earned a bachelor's degree from Taylor University, master of divinity from Asbury Seminary. Although he has retired, he continues to write and gives speeches.
For additional information, please visit http://www.bobshuler.com.
Fighting Bob Shuler of Los Angeles: God's Man for the Issues of His Time
Robert P. Shuler III
Dog Ear Publishing
ISBN: 978-1-4575-0803-5 476 pages $21.95 US
Available at Ingram, Amazon.com, Barnes & Noble and fine bookstores everywhere.
About Dog Ear Publishing, LLC
Dog Ear Publishing offers completely customized self-publishing services for independent authors. We provide cost-effective, fast, and highly profitable services to publish and distribute independently published books. Our book publishing and distribution services reach worldwide. Dog Ear authors retain all rights and complete creative control throughout the entire self-publishing process. Self-publishing services are available globally at http://www.dogearpublishing.net and from our offices in Indianapolis.
Dog Ear Publishing – self-publishing that actually makes sense.