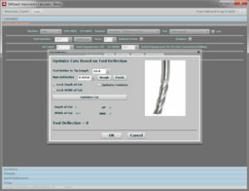 CNC machinists are finding the G-Wizard is indispensable for productivity.
Santa Cruz, California (PRWEB) March 12, 2012
CNCCookbook, Inc. announces that the G-Wizard CNC Feeds and Speeds Calculator has passed the 10,000 user mark. Over 10,000 CNC machinists at hundreds of manufacturers all over the world have used G-Wizard to save time and increase manufacturing productivity.
G-Wizard is a state of the art product and is the only feeds and speeds calculator today to offer a complete feeds and speeds solution including:

Radial chip thinning
High speed machining feeds and speeds
Micromachining feeds and speeds
Tool engagement angles
Knowledge based machining
Through spindle coolant
In addition to feeds and speeds, G-Wizard offers trigonometry, unit conversion, thread database, g-code reference, thermal expansion calculator, and much more.
About CNCCookbook
CNCCookbook is the premier CNC Blog offering software and information to CNC machinists.
More information can be found at http://www.cnccookbook.com.
Contact:
Bob Warfield
CEO
sales(at)cnccookbook(dot)com
###