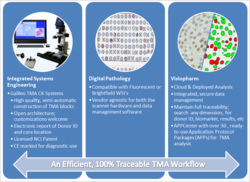 The collaboration between ISENET and Visiopharm will provide the research and diagnostic communities with a TMA solution focused on quality, data integrity and results.
Hoersholm, Denmark (PRWEB) March 13, 2012
Visiopharm, a leader in Quantitative Digital Pathology, and Integrated Systems Engineering (ISENET) the manufacturer of the innovative Galileo TMA system, announce today a non-exclusive collaboration to promote a joint solution for data management, efficient workflows, and image analysis for Tissue Microarray based research.
Tissue Microarray (TMA) technology is a technical procedure that combines tens to hundreds of paraffin-embedded tissue specimens into a single paraffin block. The use of relatively small tissue cores, positioned onto a unique slide, allows simultaneous histological analysis of hundreds of samples. TMAs provide time and money saving benefits including:

High throughput expression screenings
Reduction of the number of slides to be mounted and analyzed
Reduction of the amount of reagents and antibodies used
Analysis of various biological specimens under uniform reaction conditions
Saving of precious biological samples and possibility to re-use donor blocks
From start to finish the high quality construction, data management, and analysis of TMAs is essential. ISENET's Galileo TMA CK Family, was developed with an open architecture and designed for medical research and diagnostic applications. The open architecture of the Galileo TMA creates a perfect environment for client customizations including the use of different size blocks, and the use of the TMA as a picker which enables 96/384 well plates or Eppendorff vial holders to be used. The Galileo TMA system records core position and Donor ID within an electronic report (excel or xml file export suite); ensuring maximum traceability from Donor block, to TMA core, to TMA slide core. The Galileo TMA is CE marked for IVD applications and is covered with an National Cancer Institute (NCI) license for patent #US 6,699,710 B1 titled "Tumor Tissue Microarray for Rapid Molecular Profiling."
Digital pathology is a crucial part of an efficient TMA workflow. TMA glass slides can be scanned on any digital pathology scanning system to create whole slide images that are compatible with Visiopharm's full suite of Cloud and Deployed analysis solutions. Visiopharm's Arrayimager™ automatically reads the electronic report from Galileo TMA system with the Block Design that is linking Donor ID and core position.
Slides are seamlessly imported into the Visiopharm database from all major slide databases, including essential metadata. Arrayimager™ performs de-arraying and storing of all extracted cores in the fully searchable database, with clear identification of slide ID, and donor ID for each core. Researchers can search in any dimension, for donor ID, biomarker, results, etc, maintaining full traceability.
Michael Grunkin PhD, CEO of Visiopharm, stated "TMAs have grown in importance as a research tool since they were introduced by NIH, and have been widely applied in basic research on gene expression, biomarker discovery, references for tumor staging, and drug target validation. Recently we have even seen adoption of this approach for diagnostic purposes, and we believe that this is a growing trend. When it comes to commercial arrayers, there have only been a few very good choices. The Galileo instrument meets all the requirements we encounter in the market, when it comes to price, ease-of-use, precision, and quality. We are excited to be able to offer a fully integrated solution in collaboration with ISENET."
TMA compatible APPs
Visiopharm's patent pending APPCenter provides users with easy access to a growing library of over 30 ready-to-run APPs. All APPs are designed for whole slide and field-of-view images, and can be used for analysis of cores individually and for batch-processing of de-arrayed TMA cores.
There is no need to become an expert in image analysis; APPs are created for a wide range of biomarkers and validated in collaboration between experts in the field and Visiopharm's application scientists and programmers. Custom APPs can be developed upon request, at a fixed known cost. Customers can try any APP free of charge, before investing, to make sure that 1) the APP is working according to specifications, 2) the APP provides useful results, and 3) the APP can be understood and operated. APPs are purchased for a low fixed cost, are yours to keep, and will work with both Visiopharm's DeployedAnalysis and CloudAnalysis solutions.
Pasquale De Blasio, CEO of Integrated System Engineering, stated "TMAs require full traceability from Donor block to diagnosis. Visiopharm's leading technology provides the essential data management and image analysis tools that the TMA community requires, and offers their solutions to users in an easy-to-use, flexible, and affordable way. Together, the collaboration between ISENET and Visiopharm will provide the research and diagnostic communities with a TMA solution focused on quality, data integrity and results."
Visiopharm and ISENET will be exhibiting at the USCAP Annual Conference in Vancouver Canada on March 19-21, 2012. Come by and visit one of their booths, Visiopharm booth #730 and ISENET booth #521 to learn more about the advancement of Tissue Microarrays.
About Visiopharm
Over the past 10 years, Visiopharm image analysis and stereology software has become the preferred Quantitative Digital Pathology solution for leading biopharmaceutical companies, clinical researchers, and academic researchers all over the world. Visiopharm has more than 300 deployed systems worldwide and a large network of distribution and support partners, and is featured in over 400 scientific publications.
About Integrated Systems Engineering (ISENET)
ISENET was established in Italy in 1996. ISENET's Galileo Tissue Microarrayer Family, with its open architecture, represents the most advanced TMA instrument on the market today for leading pathology researchers and biotech companies. ISENET is a leader in Europe with more than 20 systems installed in key research institutes throughout Italy, Spain, Belgium, Brazil, Turkey, Czech Republic, and others. ISENET provides outstanding customer service, and promotes strong client relationships by providing customers with education, hardware customizations, and the design of specific applications. ISENET, in collaboration with BioSkills, also offers Tissue Microarray training courses to the scientific community. The next "Interactive Tissue Microarray Practical Course" is scheduled in Milan Italy on May 25th and 27th, 2012.