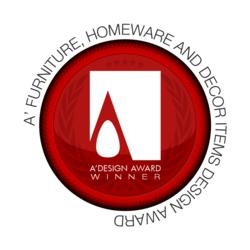 Only the best Furniture, Homeware and Décor Items Designs will be awarded
Como, Italy (PRWEB) March 12, 2012
Today, A' Design Award & Competitions announced its call for entries for the latest edition of the Furniture, Homeware and Décor Items Design Award which is open for entries of creative and innovation furniture designs, well designed Décor items and homeware.
Designers and Furniture Manufacturers worldwide are invited to take part in the competition by submitting their best designs and demonstrating their design skills through their works. Previous winners of the Furniture Design award can be accessed from the award category page at adesignaward.com, or could be also seen through awardeddesigns.com which also displays winners in other categories.
The Furniture, Homeware and Décor Items Design award considers your submission on evaluation criteria such as: Innovation, uniqueness of the project, social impacts, environment friendliness, energy utilization, and project specific criteria.
The Furniture, Homeware and Décor Items Design Award was conceived to honor designers through international coverage and publication opportunities. The award aims to attract the attention of furniture, decoration and lifestyle media to award winning designs. Winning entries will be published at the A' Design Award yearbook and will be physically exhibited at Italy and will furthermore receive free communication and publication services from A' Design Award in addition to the award trophy, certificate, badges, logo and other services that are provided to award winners.
Unlike any other awards, Furniture, Homeware and Décor Items Design Award Winners are not obliged to make any further fees for claiming the award, and will receive free of charge, all the benefits as listed in adesignaward.com. Prospective participants can apply online at adesignaward.com by paying the one time nomination fee of 375 Euros. Participants are required to upload high quality images of their work among with a brief description of the projects.
About the A' Design Award: The A' Design Award & Competition is an annual international juried design award aiming to highlight good designs and highly artistic creations. A' Award present its winners with publication and advertising opportunities. Further information about the award can be accessed from whatisadesignaward.com