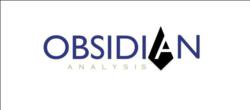 "Obsidian is very fortunate to have Micah McCutchan's fine intellect and skills on our management team as we continue to grow rapidly"
Washington, DC (PRWEB) March 12, 2012
Obsidian Analysis, Inc. announced today that Micah McCutchan has joined the firm as Director of Operations. Mr. McCutchan brings to Obsidian outstanding analytical, management, and planning skills and experience. A Project Management Professional and expert in risk analysis, Mr. McCutchan will be charged with building effective, responsive internal operations structures to support Obsidian's continued outstanding program and project performance.
"Obsidian is very fortunate to have Micah's fine intellect and skills on our management team as we continue to grow rapidly," said Obsidian's President and Chairman, Dr. Kevin O'Prey, earlier this month. "We look forward to him building program and project controls that will ensure that we continue to deliver excellent programs and projects to our clients while expanding our services."
Prior to joining Obsidian, McCutchan served as a Program Manager and Subject Matter Expert for several professional services firms in the Washington, D.C. area. He specialized in risk analysis for the Department of Homeland Security (DHS), where he helped the department achieve major milestones in risk doctrine, modeling and simulation, systems design and acquisition, and risk-informed decision making. Mr. McCutchan started his career as an engineer developing risk assessment methods for aircraft electrical wiring systems under contract for the Federal Aviation Administration.
Mr. McCutchan graduated with honors from Dickinson College with a B.S. in Physics and earned an M.S. in Systems Engineering from the George Washington University. A Washington area native, he lives with his wife, Phoebe, in Silver Spring, MD.
About Obsidian Analysis
Obsidian Analysis, Inc. is a Washington, D.C-based small business that provides high-quality analytical, policy, and exercise services to decision-makers across the homeland security and national security communities. Obsidian was founded by Dr. Kevin P. O'Prey and Matthew Travis. For more information visit: http://www.obsidiandc.com
###