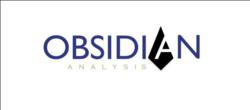 We are extremely pleased to have a professional with McLaughlin's experience and expertise join the firm.
Washington, DC (PRWEB) March 12, 2012
Obsidian Analysis, Inc. announced today that W. Sean McLaughlin has joined the firm as a Principal. Mr. McLaughlin brings extensive homeland security consulting experience to Obsidian and will lead and support Obsidian's growing portfolio of policy analysis, program assessment, and evaluation projects. Mr. McLaughlin has served as an analyst, project manager, and senior manager across a wide range of consulting efforts, including multiple initiatives to improve homeland security preparedness policy, assess the effectiveness of preparedness programs and investments, and evaluate homeland security exercises and real-world events.
"We are extremely pleased to have a professional with Sean's experience and expertise join the firm," said Obsidian Chairman Kevin P. O'Prey. "We look forward to Sean making immediate and lasting contributions to Obsidian's homeland security and counter-terrorism project work."
Mr. McLaughlin joins Obsidian from Public Financial Management, Inc. (PFM) where he served as a Senior Managing Consultant in the Strategic Consulting practice. At PFM, Mr. McLaughlin provided senior-level policy, research, and analytical support to FEMA's Local, State, Tribal, and Federal Preparedness Task Force and was instrumental in building the firm's portfolio of Federal consulting engagements. Earlier in his career, Mr. McLaughlin held progressively senior roles at Detica, Inc. (previously DFI Government Services) where he last served as the Director of Strategy and Policy, overseeing a large portfolio of homeland security consulting engagements and over 100 professional staff. At Detica and DFI, Mr. McLaughlin successfully played lead roles on a range of high profile homeland security assessments, including the 2006 post-Katrina Nationwide Plan Review, the first-ever Federal Preparedness Report, and the 2009 Inauguration Regional After-Action Report.
Mr. McLaughlin is a summa cum laude, Phi Beta Kappa graduate of Georgetown University's Walsh School of Foreign Service.
About Obsidian Analysis
Obsidian Analysis, Inc. is a Washington, D.C-based small business that provides high-quality analytical, policy, and exercise services to decision-makers across the homeland security and national security communities. Obsidian was founded by Dr. Kevin P. O'Prey and Matthew Travis. For more information visit: http://www.obsidiandc.com