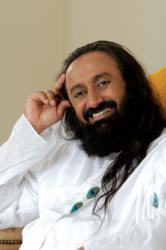 "It is now important to work towards making peace a reality," Sri Sri said. "If we spend one-tenth of what we have spent on conflict, we could create a much more prosperous South Asia where people do not fear the gun and are free from disease."
Washington D.C. (PRWEB) March 12, 2012
Global humanitarian and founder of The Art of Living Foundation, Sri Sri Ravi Shankar, will embark on a three-day peace mission to Pakistan starting today. This is Sri Sri's second visit to Pakistan which comes at a critical moment in the history of the two countries and aims to find peaceful solutions by promoting friendship, understanding and dialogue. His first visit was in July 2004 when he became the first Hindu spiritual leader from India to visit Pakistan.
Emphasizing the urgent need for a people-to-people movement, Sri Sri conveyed that a lot of time and energy had been spent on conflicts, escalating hostilities, and destruction of life and environment. Sri Sri is urging the youth to commit to a non-violent and harmonious South Asia.
"It is now important to work towards making peace a reality," he said. "If we spend one-tenth of what we have spent on conflict, we could create a much more prosperous South Asia where people do not fear the gun and are free from disease."
During his three-day peace mission, Sri Sri will hold talks with community and business leaders, academics and students, spiritual and religious leaders, and other opinion leaders to strengthen collaborative efforts between the two countries. He is likely to meet top political leaders as well.
Sri Sri believes that spirituality alone can bring the hearts and minds of people together, and mend differences. A true example of this will be the inauguration of The Art of Living Peace Centre in Islamabad by Sri Sri along with Dr. Paul Bhatti, advisor to the Prime Minister of Pakistan for interfaith harmony. Sri Sri will also visit places of religious significance, including the Badshahi Mosque to send out the message of universal spirituality. He will meet with spiritual leaders Gohar Hussain, Bari Imam Makhdoom Syed Nazakat Hussain Shah, Eid Gah (Pir Nakeeb-ur-Rehman) and Dr. Ghazanfar Mehdi, Chairman International Imam Hussain Council. He will also address school students and youth of Pakistan.
Sri Sri will enter Lahore from the Wagah border on March 12, 2012 and proceed to Islamabad and Karachi.
The Art of Living volunteers in Pakistan provided relief and rehabilitation to an estimated 100,000 people during the earthquake in 2005 and floods in 2010 through trauma relief camps, medical camps and food distribution centers.
In the United States, the Foundation is engaged in a wide variety of educational and service programs. Meditation is a common theme across all these programs. Sudarshan Kriya®, a powerful breathing technique that incorporates specific natural rhythms of the breath that harmonize the body, mind and emotions is taught to the participants of these programs. Several research studies point towards the benefits of this technique. Additionally, more than 50 high schools have benefited from Youth Empowerment Seminar (YES!), a program of its partner organization, International Association for Human Values (IAHV). This compelling program offers the youth practical tools and life skills to manage stress and addresses a critical issue in education today. As students learn to reduce stress and manage emotions they gain the ability to focus and perform well academically at school, as well as the ability to build more positive relationships with their peers, parents and teachers. The Foundation provided material aid and trauma relief after Hurricane Katrina, and its Youth Leadership Training Programs continue to make a difference in New Orleans. In New York City, the Foundation offered free trauma-relief programs to thousands after 9/11. The trauma-relief programs are also being offered to war veterans and their families.
About The Art of Living Foundation:
Founded in 1981, The Art of Living Foundation is nonprofit 501(c)(3) educational and humanitarian organization working in special consultative status with the United Nations Social and Economic Council on initiatives related to health, meditation, education, sustainable development, conflict resolution and disaster relief. One of the world's largest volunteer-based organizations, the Foundation works to create a violence-free, stress-free world by strengthening the individual. The Foundation has benefited more than 30 million people across 151 countries.