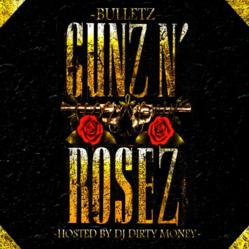 Miami, FL (PRWEB) March 13, 2012
Rap artist Bulletz recently released his mixtape "Gunz N' Rosez." Coast 2 Coast Mixtapes presents the project, which is hosted by DJ Dirty Money, in association with M.O.E. and Trapboi Muzic. It is now available for free download. "Gunz N' Rosez" features Bulletz on tracks with guest artist appearances from LB, J. Hut, Makeda, Rocki, TMG, Pop, and Bras.
Terrell Jerome Fisher II was born on September 2, 1985 in Inglewood, CA, and relocated to Charlotte, NC after making Source magazine's "Off the Radar." Growing up, music was a huge influence—listening to music from the West Coast started to change his world at an early age. When Bulletz left California for Charlotte, he knew his life would change forever. Bulletz began to sharpen his skills as an artist, mastering his already identifiable style.
Bulletz is locking the streets down from block to block, with plans to lock the streets down from coast to coast. With his unique style, he has created a sound like no other artist out today, and he stands poised to take the hood by storm with his mix of street-wise lyrics and uptempo delivery. Bulletz has gained the attention of Philly native Freeway and has recorded with Strong Arm Steady, Suga Free "Chopper Young City," the boss of MIA—Rick Ross, WC from Ice Cube's Westside Connection, and many more. Bulletz brings a West Coast flavor to the table, mixed with his own style, that clearly distinguishes him from the rest of the crowd.
"Gunz N' Rosez" is available for free streaming and download at http://coast2coastmixtapes.com/mixtapes/mixtapedetail.aspx/bulletz-gunz-n-rosez-hosted-by-dj-dirty-money