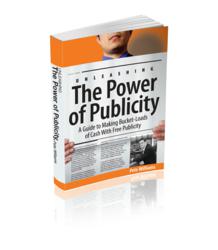 Melbourne, Australia (PRWEB) March 14, 2012
Pete Williams is the author of the international hit 'How to Turn Your Million Dollar Idea Into a Reality', a book that has helped thousands develop business ideas that reach hungry markets and achieve maximum sales at minimal expenses. He is also the author of 'The Ultimate Press Release Swipe File,' 'Media Strategies for Internet Marketers,' and 'It's Not About the Product' that is still in the works.
Unleashing the Power of Publicity is a fully packed manual that covers everything one needs to know about making money freely including secrets to writing winning press releases in less than an hour, 6 hooks that the media cannot resist, the power of 'So What' test, and how one can get the media to ask the 'right' questions. Others include how to handle oneself in an interview and press release layout techniques that stand out.
Buyers who purchase 'Unleashing the Power of Publicity' will also qualify for two press release reviews valued at almost $100 each, checked by Pete Williams personally. The book is published by Preneur Marketing and is available in print, ePub, mobi and PDF formats.
Pete is commonly referred to as 'Australia's Richard Branson' in the media and is an entrepreneur, a marketing consultant, and an international speaker.
For more information about 'Unleashing the Power of Publicity', you can visit the publisher website http://www.preneurmarketing.com.