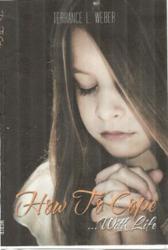 "I have young children and this book helps me teach them in many ways."
Toms River, NJ (PRWEB) March 13, 2012
Originals By Weber, Terrance L. Weber. Author, announces new eBook:"How To Cope...with life" can teach readers how to cope with the difficult events that can happen to disrupt their lives. Those events may cause long term depression and anxiety that are hard to overcome. The author explains how he overcame the many unexpected events and situations in his life and then offers to the reader a number of suggestions about ways to put those events out of mind and move on with a deeper and more mature understanding. In these many ways, the readers can more easily learn how to overcome similar personal disruptions of life in the future.
In this new ebook it is suggested, by way of the author's experiences, that there are several ways the author has learned to cope with difficulties and take better control of his life. Then as the reader learns from those examples, he/she can gain many new ways to reach out and help family and friends to create a firm foundation for their lives as well.
It was never Weber's intention to write a book, but over the years there were so many requests for copies of those stories that it became obvious that they needed to be organized and made into a book that could get greater circulation.
When Weber was asked, "What are some of the comments you get about your book?" He answered by saying, "Let me give you few examples:"
"What a great legacy of words in e-book format!"
"I find your book very helpful as a daily guide, I read it each morning before going to work."
"During group discussions, we use your book as an idea starter."
"Your book is a good way for me to get lots of my questions about my life answered."
"I have young children and this book helps me teach them in many ways."
This new book is available now in eBook format. A new APP for smart phone: information or ordering is: http://codu.co/c14197T book is also available in a paperback edition for $19.99. An order can be placed now for immediate delivery. For more information about this new book: "How To Cope... with life", write to Originals By Weber at 338 Alabama Avenue, Toms River, NJ 08753, or, call 732-864-0353, or 877-309-8382. The eBook is also available for only $3.99 at: Website:
http://www.yrret.stirsite.com/catalog/item/3455772/9174745.htm
App for smart phone: http://codu.co/c14197