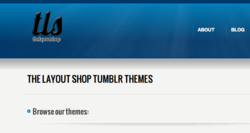 we feel that the website could become so much more
Los Angeles, California (PRWEB) March 13, 2012
The Layout Shop, an online specialty Tumblr theme store, is now under new ownership and management. The new people behind this new shift give some insight into their plans for the future of the site and how they aim to offer the best Tumblr themes on the internet.
The Layout Shop is an online store that specializes in selling website layouts, called themes, for the micro-blogging service, Tumblr. The site offers both premium themes and free themes. These themes also allow users to easily customize the look of these themes.
The site had experienced a decent amount of sales in the past year despite the fact that much of the site's design still remains unfinished. This sales performance is what prompted a shift in ownership and management.
New website manager Nicolas Camp says that "The Layout Shop gets a good amount of visitors a month and is ripe for optimization." Camp leads a team tasked with patching up glitches and other problems that had plagued the site in the past, along with overseeing major improvements.
Lead web developer Ken Morales says "we feel that the website could become so much more" and adding "we plan to make many major improvements to the function and design of site in the future."
Camp goes on to say that "we are very excited to show people the new improvements to The Layout Shop. We're already hard-at-work on these improvements and they are looking very promising."
The new management change puts a new set of eyes and a new perspective in an online service that has much potential in an increasingly growing market. Tumblr is rising in popularity and Camp's team is staying ahead of the pack with The Layout Shop.
About The Layout Shop
The Layout Shop is an online Tumblr theme store specializing in professionally-made and customizable premier and free themes for Tumblr.
###