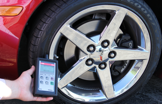 Adding the VT55 gives potential service locations and distributors the option to include OBD capability in their TPMS service solutions
CINCINNATI, OH (PRWEB) March 12, 2012
Aftermarket tire pressure monitor (TPMS) manufacturer Orange Electronic will offer ATEQ's VT55 OBD TPMS tool as the most recent addition to its lineup of full-service TPMS solutions in 2012. Adding Orange's patented OE sensor ID-cloning capability to the TPMS tool's OBD interface, the VT55 is able to handle any OE TPMS replacement situation quickly and efficiently.
Operating out of Cincinnati, OH, Orange Electronic is a leading provider in both OE replacement TPMS and retrofit TPMS solutions. Orange OE replacement sensors are able to be programmed with OE ID numbers and bypass the typical relearn procedure required when replacing TPMS. This ID-cloning capability is fulfilled through RF programming by two different ATEQ TPMS tools - the T30 and VT55. The T30 TPMS tool maintains all the same functionalities of the VT55, less the OBD connection.
"Adding the VT55 gives potential service locations and distributors the option to include OBD capability in their TPMS service solutions," stated Steve Norris, CEO of Orange Electronic North America.
With OE battery lives of 5-6 years, these TREAD Act mandated tire sensors are expected to begin dying more dramatically in 2012 and beyond. According to a 2010 study from industry analyst Frost and Sullivan, over 11 million sensors are expected to be replaced in the United States throughout 2012.
From replacement sensors to rebuild kits to programming tools, Orange Electronic and ATEQ continue to lead the TPMS marketplace in easy-to-use, competitively priced TPMS solutions. For more information, please visit http://www.orangetpmsusa.com or http://www.ateq.com.