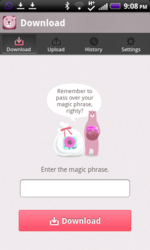 Share multiple photos from your mobile device quickly and easily.
San Francisco, CA (PRWEB) March 13, 2012
KAYAC Inc., is proud to announce the release of a mobile app called Photobag, which is now available in the Apple iTunes App store and the Android market. Photobag allows unlimited sharing of photos through an iPhone or Android phone.
Photobag is a signup-free service that allows the user to select the photos that they want to share with other mobile devices through a user generated access code. After choosing the photos on the user's phone to upload, the user enters a secret code and the app automatically uploads the pictures into a cloud server for storage.
Within 12 hours, anyone with the access code can download the pictures into their mobile device. The app allows the user to invite friends and they get a bonus hour. After 12 hours, users will have to pay to see the pictures by feeding the app's Honey Bear.
KAYAC's motivation to build this app came from one of the members on their creative team. "When traveling with my friends, sharing photos through email through my iPhone was very tedious, and this is when I thought that an app that would let users exchange photos taken by iPhones could become handy," says Noriko Nishi, Designer at KAYAC.
"This App allows people to easily share photos without a cumbersome sign-in process," says Daisuke Yanasawa, CEO of KAYAC Inc. "We hope that users who have the need to share numerous photos of events like weddings, graduations and birthdays will appreciate the ease of this app."
Attendees of SxSW can see the Photobag app live as well as other KAYAC apps at SxSW Exhibition Hall 4, booth #909.
This app is downloadable in the iPhone App Store and the Android Market
About KAYAC Inc.
KAYAC Inc. was established in 1998 to contribute to the advancement of the internet by providing innovative web applications and services.
Today, KAYAC, whose revenue has increased over 200x since its inception and is considered one of the top creative thought leaders in Japan. KAYAC is heavily involved in mobile apps and services from social games to human productivity apps.
For more information about Kayac please visit http://www.kayac.com