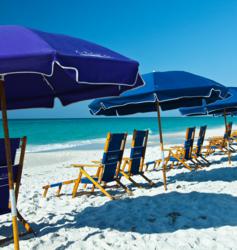 We look forward to the opportunity to welcome back to Seascape Resort so many of our loyal customers and to help them experience the perfect beach vacation in 2012
Miramar Beach, Florida (PRWEB) March 13, 2012
Business is picking up in the Florida vacation rental market, and 2012 is shaping up to be a banner year for the industry. After enduring the combined effect of the economic downturn in 2009 and the Gulf Coast oil spill in 2010, the Florida panhandle welcomed vacation visitors back to the beaches in 2011, and indications are that the recovery will expand in 2012. Seascape Golf Beach & Tennis Resort on the Emerald Coast is a prime example of a destination resort experiencing a surge of returning vacationers eager to enjoy some of the most beautiful beaches in the world.
"Spring and summer rental reservations are on a pace to surpass bookings for the last several years" according to Corey Williams, Rental Director for Seascape Resort. "All indications are that 2012 will mark a return to the days when peak season weeks routinely sell out and visitors make reservations well in advance to secure their favorite accommodations."
Many visitors for whom a summer beach vacation is an annual ritual may not have made their beach trip for the last few years. With the realization that the beaches are as beautiful as ever, the water is crystal clear and the seafood is fresh and delicious, vacationers are returning to the Gulf Coast in record numbers. With over 2000 feet of beaches and onsite amenities including golf and tennis, Seascape Resort is the destination of choice for many of these visitors.
"We look forward to the opportunity to welcome back to Seascape Resort so many of our loyal customers and to help them experience the perfect beach vacation in 2012" says Jay Nettles, General Manager of Seascape Resort.
About Seascape Resort
Located in Miramar Beach, Florida Seascape Resort has been a premiere destination resort for over 35 years. Seascape is a 300 acre full-service resort featuring 2000 feet of pristine sugar-white sand beaches and offering exclusive onsite amenities including golf, tennis, swimming pools, water sports, bike rentals, and the world-famous Whale's Tail Beach Bar & Grill.
###
For more information please call 800-874-9106 or visit http://www.seascape-resort.com.