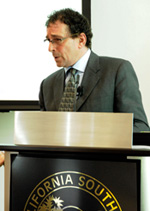 Irvine, CA (PRWEB) March 13, 2012
California Southern University is pleased to welcome back Dr. Jeffrey Zeig to its Irvine, California campus on March 23, 2012, for the continuation of its Master Lecture Series. Dr. Zeig's presentation is titled "Exploring the Genius of Dr. Milton H. Erickson: Tailoring, Technique and Process." Dr. Zeig is singularly qualified to lecture on Dr. Erickson; he studied under the master of psychotherapy for more than six years and is the founder and director of the Milton H. Erickson Foundation.
Dr. Zeig, who is returning to CalSouthern for a third time as a guest lecturer, will focus on Dr. Erickson's inventive psychotherapeutic techniques and provide examples of the unique ways in which he would tailor his approach to fit each client. In addition, Dr. Zeig will explore a previously unexamined aspect of his genius: the process of Dr. Erickson's work. A case study of Dr. Erickson working with a phobic patient also will be presented and discussed in detail.
"We are thrilled to welcome Dr. Zeig back to CalSouthern," says Dr. Barbara Grimes, Dean of the CalSouthern School of Behavioral Sciences. "Dr. Zeig is a sought-after speaker and lectures around the world. We are so appreciative that he continues to take time out of his hectic schedule to lecture at CalSouthern. He is a great and valued friend of the university."
In addition to his work at the Erickson Foundation, Dr. Zeig is the architect of the Evolution of Psychotherapy Conferences, widely regarded as both the world's largest and most important conferences on psychotherapy. He also organizes the Brief Therapy Conferences, the Couples Conferences, as well as the International Congresses on Ericksonian Approaches to Hypnosis and Psychotherapy. The author, co-author, or editor of more than 20 books, Dr. Zeig maintains a private practice in Phoenix, Arizona and is a frequent speaker at major universities and teaching hospitals, including the Mayo Clinic, the Menninger Clinic, and MD Anderson.
The two-hour lecture and question/answer session will begin at 10:00 a.m. and is open to the public. Guests are invited to attend in person or online; the event is free of charge. Please click here to register and for more information.
Established in 1978, California Southern University is a premier online university offering accredited degree programs at the associate, bachelor's, master's and doctoral levels in psychology, business, criminal justice, and law to an international student body, utilizing a proprietary online learning system. CalSouthern is accredited by the Accrediting Commission of the Distance Education and Training Council. The Accrediting Commission is listed by the U.S. Department of Education as a nationally recognized accrediting agency and is a recognized member of the Council for Higher Education Accreditation.
http://www.calsouthern.edu/content/press-releases/dr-jeffrey-zeig-returns-to-california-southern-university/