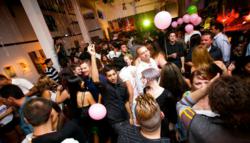 This has become "the" big deal in Affiliate Marketing.
San Francisco, CA (PRWEB) March 12, 2012
RoadFish.com men's lifestyle and finance magazine announced Dr. David Klein of Purpose Inc., otherwise known as "DK" to the internet marketing world, to join the panel of judges for the Second Annual Murray Newlands Affiliate Marketing Awards. RoadFish.com, the men's finance magazine that is parented by Klein's Purpose Inc., feels incredibly thrilled and honored for this opportunity.
On April 3rd, some of the most prestigious Internet marketers of the international world will gather in San Francisco to accept awards for 20 different categories of online business. Categories range from Best Merchant Campaign, to Best Content Affiliate, and Best Affiliate Marketing Blog to Hottest Affiliate and Hottest Affiliate Manager. According to Murray's blogpage, TheAffiliateMarketingAwards.com, last year's national Awards was so successful that organizer Murray Newlands decided to open this year's Awards to allow international contenders for the first time. Newlands expects to see affiliate marketers from around the globe with nominations for over 20 categories.
This year's awards will be judged by Curtis Fullmer, Vice-President of Affiliate Marketing at Adknowledge, Firuze Gokce, Co-Founder & CEO of Affmeter, LLC, Steve Hall, Founder of AdRants and MarketingVox, Tanya Alvarez, Founder & CEO of BlinkAds, and Peter Bordes, Founder & CEO of MediaTrust. The Awards are organized by Murray Newlands and his company Influence People. Newlands just announced DK as joining the panel of prestigious judges.
DK is quoted as saying, "I was so honored when Murray asked me to do this. This has become "the" big deal in Affiliate Marketing. Murray is a phenomenal guy, and a brilliant Internet marketer. Murray probably would take quite a few of the awards himself if he entered. I am really excited to be part of this."
Murray Newlands himself is an digital marketing advisor adviser, advising companies and individuals in both the U.S. and the U.K. on how to make the most out of all that social media has to offer, as well as how to better connect and network with people and provide value with one's business.
The Awards are free to enter and both self-entering as well as nominating others is permitted. Applicants must explain to the jury why their entry deserves the award, and a tip offered on Murray's website is to increase the contender's chances by entering into more than one category which is entirely acceptable. Submissions are open until March 23rd for affiliate programs from the past year.
The 2012 Affiliate Marketing Awards will be held in San Francisco on April 3rd, at the Minna Gallery on 111 Minna Street in San Francisco. Free drinks will be provided so all attendees must be at least 21. Tickets may be purchased online.
About RoadFish.com
RoadFish.com is an online men's lifestyle and finance magazine targeted toward men in their 30s and 40s that have already attained a moderate level of success in life, and are striving toward more. It goes over current events of interest to this group, such things as exciting adventures, finances, consumer interests, luxury items, and dating tips, as well as ways to make more and save more money. It is a publication owned by Purpose Inc.
###