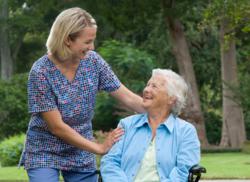 Houston, Tx (PRWEB) March 13, 2012
Choosing the right assisted living facility is an extremely important decision as the elderly need a place that offers them quality health care along with emotional support. Loving Kindness is licensed by the State of Texas and it is located near The Woodlands, a census-designated place with a population of over 93,000 people, 32 miles north of Houston, Texas. They are offering a special and limited period $500 offer for the first month for all potential residents. Government trained officials frequently visit this assisted living facility to ensure that they not only meet but also exceed all health and safety standards, requirements, and practices. The facility is located just minutes away from Hermann Memorial Hospital and St. Luke's Hospital in The Woodlands, a growing community with new businesses moving in all the time and with many shops and medical facilities. With Houston just a short drive away, the residents can be transported to a hospital as quickly as possible in an emergency situation.
Loving Kindness provides their residents with three full and healthy meals, beverages, and many snacks throughout the day from their kitchen to ensure they never go hungry or become dehydrated. Along with adhering to special religious dietary requirements (for Buddhists, Hindus, Muslims, Jews, Jehovah's Witnesses, etc.), occasional treats are also offered during special occasions if they do not pose a health problem. This assisted living Houston facility plans a number of activities such as bingo, music lessons, crafts, visits from community pets from the SPCA, and outings to various places like museums and theaters to keep residents happy and healthy. Occasionally,Loving Kindness even takes residents to a restaurant for a nice meal with no charge to the residents.
Says a representative of the company, "All of our staff members comprising various dieticians and cleaning staff are fully trained and experienced in making sure our residents are safe and happy. At Loving Kindness, our residents are our top priority and their needs come first and foremost." This non-smoking facility also meets and exceeds all safety standards and there are a number of security alarms and fire exits in place throughout the facility.
This assisted Living Houston provider always maintains an open door policy for any family member who wishes to visit their loved one. Residence walk through s are provided for the convenience of potential residents, so they have ample time to meet the staff and get to ask them any questions or concerns that they may have. The team at Loving Kindness looks forward to meeting potential residents and their loved ones and their goal is to make new residents feel welcome while making the transition easier for them. Please visit http://www.assistedlivinghouston.net for additional information.