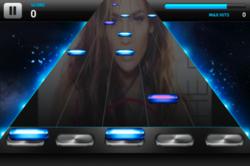 What has already wooed many iOS game lovers into choosing The Real DJ as their #1 rhythm game is the unique feature it offers: players may choose music from their own personal playlists to play
(PRWEB) March 13, 2012
The Real DJ, Float32 Inc.'s recently launched rhythm game phenomenon is budget friendly in more than one way already. But in the wake of its sudden success in such a competitive genre, The Real DJ has taken yet another step to appeal to customers who pinch pennies when shopping on iTunes.
The Real DJ is a rhythm game application which uses pre-recorded music of the user's choosing to create game-play that allows the player to "play along." What has already wooed many iOS game lovers into choosing The Real DJ as their #1 rhythm game is the unique feature it offers: players may choose music from their own personal playlists to play. This is unlike most other rhythm games on the market, which require players to purchase tracks specifically for use within the game. The Real DJ, however, can analyze any DRM-free track synced to the user's device for gameplay.
The Real DJ is also a free download, and players can play up to ten sessions (songs) each day without charge. This free version of the game is ad-supported. However, within the app users can purchase a Premium Pack which allows for an unlimited number of sessions daily, ad-free play, and the option to choose their own background image. Typically, the Premium Pack costs players just $1.99, but in order to celebrate the game's success, The Real DJ Premium Pack is available for $0.99 for a limited time only.
This discount makes the best value in iOS rhythm games an even more appealing option for players. The Real DJ is widely compatible (iPhone, iPad, and iPod Touch with iOS 4.0 and later) and available in a variety of languages, so many potential fans have a fantastic opportunity to get the premium version of this app at a bargain basement price.
iTunes: http://itunes.apple.com/us/app/the-real-dj-rhythm-game/id467707681?mt=8