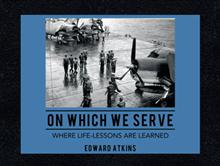 Rockville, Md (PRWEB) March 13, 2012
In Edward Atkins' new book "On Which We Serve: Where Life-lessons Are Learned" (published by WestBow Press) are found 355 National Archive photographs of service aboard a U.S. Navy aircraft carrier during World War II. The book recounts the activities of a sailor fresh out of high school as he "works" the flight deck of a fleet aircraft carrier and, in so doing, evolves life-lessons learned based on First Principles such as responsibility, accountability, respect for others, empathy and trust and the life values and virtues.
Atkins describes "On Which We Serve" thus:
"The book 'On Which We Serve' is actually two books under one cover presented simultaneously. The "first book" (which is one of a kind for ALL time because it's in the first-person) deals with the activities taking place on the flight deck of a fleet WWII aircraft carrier, along with a somewhat brief telling of the history of the naval progress as it fought its way westward across the Central Pacific to the shores of Japan. This is illustrated by 355 superb full-size National Archives photographs.
The 'second book' segues throughout from the 'first book' as a fulsome anthology of short discussions of traditional values and virtues, morals and mores (remember, 'brevity is the soul of wit'). The discussions are essentially meant to stimulate the readers into formulating more precisely their own standards of character. (Incidentally, a good source of material for this can be read in the immortal poem 'If' by Rudyard Kipling and seen at the end of this 'combined book.' Visit the 'If' poem at 'These Words By Which To Live' blog of my website."
About the Author
Edward Atkins grew up in Montclair, New Jersey where he attained the Eagle Scout Badge with Bronze Palm at 14. He played on the Newark Academy varsity football and basketball teams before serving in the U.S. Navy during WWII, then graduated from Yale University with a B.S. in Business Administration. Next he worked in New York City banks and electronic companies. After seven years, he earned a B.S. Electrical Engineering degree. Next he worked for a company managing the Polaris Missile System for the U.S. Navy. This led to working for the U.S. Navy Electronic Systems Command in Washington, D.C. as a management engineer until retirement in 1991. His outside interests centered on the field of robotic devices and the use of computers to develop neural network applications (in medicine, maintenance, decision-making, and other if-then problems). Later he compiled a trilogy consisting of this volume and two additional volumes. For more information, visit Atkins' website at http://www.on-which-we-serve.com.
WestBow Press is a strategic self-publishing alliance of Thomas Nelson, Inc., the world's largest Christian publisher, and Author Solutions, Inc. (ASI) — the world leader in the popular self-publishing industry segment. Through this partnership, authors benefit from the rich publishing heritage of Thomas Nelson and the speed-to-market advantages of the ASI self-publishing model. Titles published through WestBow Press are evaluated for sales potential and considered for publication under the Thomas Nelson imprint. Thomas Nelson, Inc. continues to "inspire the world" with distribution of products in more than 100 countries worldwide. For more information, or to start publishing today, visit http://www.westbowpress.com or call (866)-928-1240. Follow us @westbowpress on Twitter for the latest news.