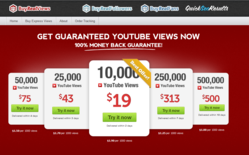 Get 1,000 views for as low as $1 only at Buy Real Views.
Ottawa, ON (PRWEB) March 13, 2012
Buy Real Marketing's premier YouTube views service provider, Buy Real Views announces its latest product offering to date. As a pioneer in the social web properties industry to leverage traffic to YouTube videos, the company started in mid 2010 and since then has continuously built a strong reputation for itself among its competitors. Now having secured the title as the no. 1 provider that can garner quality YouTube views to its clients, the team behind Buy Real Views is continuously driven to give its clients the best service money can buy.
Many of its clients profit from this type of YouTube marketing technique as the most optimal process of presenting products to its audiences. Buy Real Views guarantees its clients that it provides top quality YouTube views or their clients get a money back guarantee. As of March 2012, they have successfully served over 60,000 orders.
JP Bisson, Managing Director of Buy Real Marketing said "For this month of March, we are happy to inform the public that we're implementing a new pricing strategy alongside new delivery times for our views. We feel that these changes be valuable and benefit our clients more so. Who wouldn't want to pay only $19 to receive 10,000 YouTube views all within 2 days' time? We guarantee you that this is the best offer on the web, given the quality and pricing".
Currently, Buy Real Views is now offering their services at an even lower price than its competition: $43 for 25,000 views, $75 for 50,000 views, $313 for 250,000 views and $500 for 500,000 views. With the help of this service, YouTube advertising is easy and hassle free. It can provide the opportunity to boost sales, widen the awareness of the video and its method is 100% safe and risk-free. Given the vast expertise of the company, videos applied for this service have never been banned or flagged. Unused advertising space is no longer considered useless, but an efficient tool to drawing more attention to the YouTube videos.
For more information about Buy Real Views and its services, visit their website at http://www.buyrealviews.com.
About
Buy Real Views is wholly owned by Buy Real Marketing, Inc. The company is a well established internet marketing company founded in 2010 by Jean-Patrick Bisson, Diana Quartin and Jonathan Kennedy. The company specializes in driving search marketing and social media traffic, social web app development and conversion optimization. Each product or service specifically helps small/medium website owners increase online visibility and improve online sales.
###