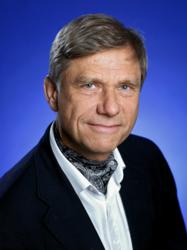 It is rare that the emergence of a new technology coincides perfectly with its commercial opportunity. For Intune Networks this is the case with the unique ability of its solutions to solve the traffic congestion challenges network operators are facing.
Dublin, Ireland (PRWEB UK) 12 March 2012
Intune Networks, the Dublin based company whose technology allows for the flawless delivery of an exponentially increasing volume of digital content and services via existing optical fibre networks, is delighted to announce that Hermann Hauser, the veteran IT industry serial entrepreneur, investor and visionary has joined the Board as a non-executive director with immediate effect.
Dr. Hauser has watched the development of Intune Networks with close interest ever since Amadeus Capital Partners, the investment fund he co-founded, made an initial investment in the business in 2008. He believes the business, having proven its technology with key network operators, is now entering its commercial phase at a time when the need for its innovative fast tuning laser technology has never been greater.
Commenting on his appointment, Dr. Hauser said:
"It is rare that the emergence of a new technology coincides perfectly with its commercial opportunity. For Intune Networks this is the case as a result of the unique ability of its solutions to solve the traffic congestion challenges network operators are facing caused by the increasing volume of internet, mobile and cloud based information that is travelling across their fibre networks."
"I am delighted to have been invited to join the Board of Intune Networks. I look forward to working closely with the executive team to drive the rapid commercial development and deployment of Intune's highly effective, efficient and cost reducing solutions across a global market base."
Ian Jenks, CEO of Intune Networks commented:
"To have a person of Herman Hauser's stature join our Board is a tremendous compliment to the business and a major endorsement of the substantial commercial value that resides in Intune's world leading products and highly innovative technology."
"The rest of the Board and I welcome the immense commercial vision and insight that Dr Hauser will undoubtedly bring to Intune, based on his many years of success in creating and developing businesses based on innovative technology and turning them into highly profitable global enterprises with number one market positions in their sector."
For further information contact:
IKON Associates
Adrian Shaw
T: +44 (0)1483 271291
M: +44 (0)797 9900733
E: adrian(at)ikonassociates(dot)com
Notes for editors:
Hermann Hauser - Biography
In his long and successful history as an entrepreneur and venture capitalist, Mr Hauser has founded or co-founded companies in a wide range of technology sectors. These include Acorn Computers (Created the BBC Micro), Active Book Company, Virata, Net Products, NetChannel, and Cambridge Network Limited. He was a founder director of IQ (Bio), IXI Limited, Vocalis, SynGenix, Advanced Displays Limited, Electronic Share Information Limited and E*Trade UK.
He was also involved in the spin-out of what is now ARM Holdings PLC from Acorn Computers, following the development of the forerunner of the ARM processor which is today found in 95% of mobile phones. He co-founded Amadeus Capital Partners in 1997 and in 1998 he co-founded Cambridge Network Limited, the highly influential technology business networking organisation.
Dr Hauser holds an MA in Physics from Vienna University and a PhD in Physics from the Cavendish Laboratory at King's College, Cambridge. He is a Fellow of the Institute of Physics and of the Royal Academy of Engineering and an Honorary Fellow of King's College, Cambridge. He holds honorary doctorates from the Universities of Bath, Loughborough and from Anglia Polytechnic, and was awarded an Honorary CBE for 'innovative service to the UK enterprise sector' in 2001. In 2004, he was made a member of the Government's Council for Science & Technology.
About Intune Networks Limited (http://www.intunenetworks.com)
Intune Networks ('Intune') offers unique and transformational technology solutions it has developed to enable optical fibre based network architectures to cope with the massive increase in unpredictable traffic demand that is the prerequisite of a modern digital economy. Network operators all over the world recognise that being able to deliver the exponentially increasing volume of digital content and data they are being required to carry over their networks without any deterioration in quality is one of the biggest single issues they are facing.
Intune's fast tuneable laser technology based solutions solve this 'traffic congestion' issue utilising plug and play modules that also, but very importantly, allow the Network Operators to sustain profitability and reduce operational costs.
The Company was founded by John Dunne and Tom Farrell in Dublin in 1999, following their post graduate research work at University College Dublin in tuneable laser technology which led them to understand how to successfully apply this technology to allow a many fold increase in the amount of content and data that could be transported along an optical fibre.
Over the next 12 years, Intune developed and refined its technology and today is focussed on the telecoms equipment market where the next generation of digital service requirements such as guaranteed uplifts in quality of end-user experience and high on-demand bandwidths are creating a new global opportunity which Intune's technology uniquely meets.
Intune, which is headquartered in Dublin, currently employs more than 120 people. Design, development, production and sales facilities are located in Dublin and Belfast and the company also has sales offices in the United States.
In the third quarter of 2011 Intune raised €17.5 million in its most recent funding round, bringing to the total funding the company has secured in the last 5 years to in excess of €60 million, making it one of the largest private equity investments in the global telecoms equipment sector in recent years. The funds raised will be used to support the company through customer trials in 2012 and to strengthen its presence in regions close to its early customer base.