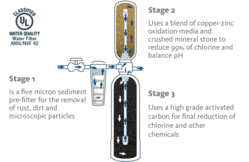 Minneapolis, MN (PRWEB) March 13, 2012
Executives at Whole House Water Filter Systems today announced the publication of important information to help consumers understand the differences in filtered water and how to pick the best filter to promote better health. The publications provided offers information about which is the best filtered water, distilled, bottled, or carbon filtered.
The researchers on the Whole House Water Filter website continuously update the site with new information, how-to articles and videos, and they share their expertise to help homeowners learn how to pick the best whole house water filter for their particular home. One of the most popular articles on the website is a publication on the UL and NSF certification designations and their meanings.
"I installed a whole house water filter system because I got tired of my wife buying cases of bottled water. The amount of plastic we were throwing away on a weekly basis was really getting to me. After I did a little research I found out that we can get our own filtered water at considerably less cost and no plastic waste simply by installing a water filter system in our home." - Ted Santacruz, Paso Robles, California
The best filtered water comes from whole house water filters which are NSF and UL certified. The NSF certification guarantees the homeowner that the filtration device will perform successfully and according to the manufacturer's claims. In order to qualify for a NSF certification the manufacturer of the water filter must indicate the chemicals and toxins that the device is capable of removing.
Water filters that are UL certified are a step above the NSF certification as they have to go through the same certification process as NSF units but over a number of years to pass this rigorous certification. However, as important as the certification and ratings are, homeowners should also be able to trust the source of those ratings which is why NSF and UL certified units are trusted names.
About
WholeHouseWaterFilter.us is dedicated to offering comprehensive information to help homeowners make an informed decision when purchasing a water filtration system for their home. The website is updated on a weekly basis with new information as it becomes available. The employees of the company are currently working on more instructional videos which will be posted in the near future.