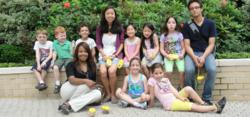 I will never forget watching a little boy shake from excitement after launching his first Alka-Seltzer powered rocket or the young girl examining micro-organisms she collected in Central Park under a microscope," adds Magloire
New York, NY (PRWEB) March 12, 2012
SciTech Kids (sci-techkids.com), a division of SciTech Education, a provider of science enrichment for children, will be offering innovative science and technology programs geared, such as camp, preschool and afterschool programs as well as birthday parties, to spark a child's innate curiosity and creativity through rich, hands-on, captivating experiences in New York City.
Designed for children ages 3-15, SciTech Kids inspires kids to think like scientists, inventors and innovators. "SciTech Kids empower children to ask questions, observe, hypothesize, and experiment. says Kim Magloire, President of SciTech. Through its various programs, SciTech Kids turn the idea of learning science on its head. Kids learn scientific concepts by doing science that is connected to everyday life, rather than hearing about it.
"We piloted SciTech Kids Science Camp for two weeks last summer, and the response was amazing," adds Magloire. "Boys and girls ages 5 to 9 were transformed when they applied science knowledge to the world outdoors. I will never forget watching a little boy shake from excitement after launching his first Alka-Seltzer powered rocket or the young girl examining micro-organisms she collected in Central Park under a microscope."
With activities ranging from composting to finding your center of gravity by walking a tightrope to learning the physics behind roller coasters to building solar powered cars, SciTech Kids are taught the fundamentals of Science, Technology, Engineering, and Math. "Our students will never look at Central Park, the Hall of Science or Victorian Gardens the same way,"
SciTech Kids will be offering seven one week sessions in June and July and after school, weekend and preschool programs starting in the Fall. In addition to these programs, SciTech Kids provide birthday parties for Mad Scientists everywhere.
"Many of our campers from last year have mentioned they are coming back this summer. I can't wait to see their reaction to the augmented reality apps we will be using outdoors to enhance their science experience," added Magloire.
To learn more and register for SciTech Kids Science camp, visit sci-techkids.com