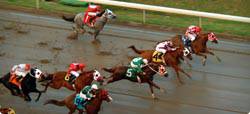 Galt House Hotel enjoys hosting Kentucky Derby guests each year. As the Heart of Louisville, Official Hotel of the Kentucky Derby, and the only hotel on the waterfront, it is the perfect place to enjoy the splendour of the Kentucky Derby Festivities.
(PRWEB) March 14, 2012
Louisville's Galt House Hotel, the Heart of Louisville, is getting decked out in all its spring glory as the 138th Kentucky Derby Festivities quickly approach. The hotel has some very attractive hotel packages available for both Thunder Over Louisville and Kentucky Derby that are selling fast as the fireworks are being shipped and the horses are being picked. Louisville's landmark destination is the headquarter hotel for Thunder Over Louisville and the Official Hotel of The Kentucky Derby.
On Saturday, April 21st, the official start of the pre-Derby festivities begin with Thunder Over Louisville. Galt House Hotel has your front row seats. Thunder Over Louisville continues to deliver a pyrotechnics spectacular like no other, and is the largest in North America thanks to the artistry of Zambelli Internationale and the production of Visual Presentations. Created as the opening ceremonies of the Kentucky Derby Festival, it offers an explosive kick-off to two entire weeks of celebration in Louisville, KY and Southern, IN. With an estimated attendance of half a million people, it has become the largest annual event in its region. Galt House Hotel offers a special promotion for Thunder Over Louisville with its "Friday Night Penny Night" where you can buy a night and get the next night for just a penny. Two packages available are a Deluxe Room – RIVUE Tower package starting at $449.00 + tax for Saturday, April 21st and .01 for Friday, April 20th, and an Executive Suite – SUITE Tower package starting at $498.99 + tax for Saturday, April 21st and .01 for Friday, April 20th. Both packages include 6 wristbands and one parking pass. A limited quantity of Waterfront Balcony Suites are available.
Two weeks later, Galt House Hotel welcomes horse fans far and wide to the biggest hotel in the state and the biggest horse race in the country with two Kentucky Derby packages ; The EXACTA package is $3,150 + tax for a Deluxe RIVUE Tower, and the TRIFECTA Package for $3,750 + tax for an Executive Suite. The packages include three nights, May 3 – May 5th, 2012. Additional Nights are discounted. There are also special discounts for Groups of 10 or more. For individual packages, contact Elizabeth Broadway at 502-584-5600 and for Group Packages; contact Dee Asher at 502-588-4045.
Galt House Hotel is the only waterfront hotel in Louisville's downtown, and offers six restaurants and lounges including the sophisticated RIVUE Restaurant and Lounge, 25 stories atop the hotel with breathtaking views. Galt House Hotel also offers a boutique shopping retail row and some special limited time only shops for Derby guests to experience, including a hat shop. Also, new this year is the 3rd Floor Spirits and More. To find out more information on these special packages, or to book these packages online, please visit http://www.galthouse.com. You can also call 1-800-THE- GALT or 502-589-5200.
About the Galt House Hotel
Galt House Hotel, The Heart of Louisville, is one of the largest hotels in the Southeast, with 1,290 guest rooms and suites, 128,000 square-feet of convention space, and more than 50 meeting rooms. The hotel features the rooftop Club 360° Fitness Center with sweeping views of the skyline and waterfront, and the Conservatory, a three-story 'Crystal Jewel' that connects the hotel's two towers. In all, the Galt House features seven full-service restaurants and lounges, including RIVUE, a 25th floor revolving, rooftop restaurant, with amazing cuisine. For reservations, call 1-800-THE-GALT, or visit http://www.GaltHouse.com.