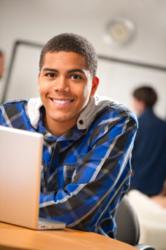 Autistic children and adults can be very entertained, productive and talented with all types of computers.
Elk Grove Village, IL (PRWEB) March 14, 2012
In recent years, more and more educators have found the positive benefits of incorporating computer-based learning in the classroom of autistic children and adults. This is supported by brand new research in the field of computer-based learning for those in the autism spectrum.
Autism spectrum disorders (ASD) are a group of developmental disorders that first appears in children around age 3. Autism affects the developing brain and hinders the normal development of social and communication skills. The Center for Disease Control and Prevention estimates that 1 in 110 children in the United States have some form of ASD.
Children and adults with ASD struggle with both verbal and non-verbal communication, which affects their ability to learn in a traditional teaching environment. Many times parents and educators feel frustration or helplessness with respect to educating a child with ASD. While every ASD case is unique, studies have shown that computer interaction is one way those with ASD can learn and interact.
According to a new study by Nottingham University and Carnegie Mellon University, there are a number of factors that make computer learning easier for those with ASD.

ASD has a tendency to affect sensory processing, which limits writing ability but allows for typing.
The precision and predictability of computer-formatted information is very useful for those in the autism spectrum.
Those with ASD may demand complete control on a variety of aspects, making classroom learning nearly impossible, but computer learning a good option.
The sound effects and graphics that can be employed through computers are engaging and stimulating for this in the autism spectrum.
Communication is processed in a simple and non-threatening manner that adds comfort to those with autism.
Professor Simon Baron Cohen, Director of the Autism Research Centre, stated that the benefits for computers among this type of users are profound. "We can use computers to teach emotion recognition and to simplify communication by stripping out facial and vocal emotional expressions and slowing it down using email instead of face-to-face real-time modes."
While there are a number of software programs and applications that are targeted to those with autism, autistic children and adults can be very entertained, productive and talented with all types of computers. As anyone that has personal or professional experience with autism can attest, the demands of raising or educating a child with autism can be tolling on one's patience as well as wallet.
Fortunately, there are a number of ways to minimize some of the costs of educating a child or adult with autism. One such way is to invest in a refurbished desktop PC or refurbished laptop. When buying from a trusted computer distributor like Belmont Technology, you can be assured that you will receive a fully-functioning computer backed with a 90-day warranty.
About Belmont Technology
Belmont Technology is an online retailer of used and refurbished computers, processors, used hard disks and more. All of our products must pass a rigorous inspection before shipment. We also back our products with a 90-day warranty.