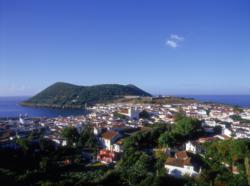 National Geographic recognized the Azores as the second-most sustainable islands in the world.
Boston, MA (PRWEB) March 12, 2012
The Azores saw a 25 percent increase in American visitors last year, and now the Portuguese region is investing to build even closer travel and business ties to New England. This is clear from a recently formed partnership with Legal Sea Foods, which is preparing a new initiative featuring fresh caught fish and recipes from the Azores.
The Legal Sea Foods promotion highlights not simply the cuisine and the 300-year relationship between the Portuguese Azores islands and New England - but the potential of the Boston and New England market for the Azores.
SATA sees the Boston area as a prime target for increased traffic, especially as the Azorean ethnic market in U.S. ages, and the demand for new green destinations grows. That's why the Azores partnership with restaurant giant Legal Sea Foods was so appealing.
Set in the middle of the vast Atlantic Ocean, the people of the Azores are known not simply for their respect for the sea, but for the environment as a whole. Several years ago National Geographic recognized the Azores as the second-most sustainable islands in the world for just that reason. The number of Americans who visit the Azores is usually less than 20,000 a year, but that has been growing.
"Growing up in the Azores, you get a tremendous respect for the balance of humanity and the environment," says SATA's U.S. General Manager, Nuno Puim. "We hope that this effort will not only bring the people of New England and the Azores closer together - but help us to see that we share the Atlantic that separates us."
The casual-dining chain, based in Boston, is highlighting the exotic Portuguese islands, only four hours from Boston. The menu will be available at Legal Sea Foods restaurants in Massachusetts and Rhode Island, from March 14 through April 11.
The common roots between the Azores and America date back to the Azoreans who supported the U.S. in the War for Independence. By the 1820's American whaling ships from Nantucket, New Bedford, and Edgartown where calling on the Azores for sailors and supplies.
With the Azoreans came their food and traditions. Today linguiça and chouriço are common in New England grocery stores. Portuguese muffins, called Bolos Levedos are a staple in their Azorean home town of Furnas, as is Portuguese sweetbread, and Portuguese rolls. Restaurants from Cape Cod to Fall River serve up hearty Azorean kale soup, and Portuguese wines are common in most area package stores.
In 1986 SATA began its service to the more than 200,000 people of Portuguese descent in New England. Today the airline has daily non-stop scheduled service to the islands and to Lisbon in season.
For more information on SATA and its service call 800-762-9995 or log on to http://www.sata.pt.