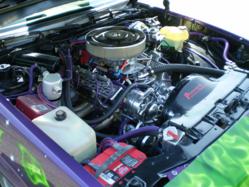 Freehold, NJ (PRWEB) March 14, 2012
Proper cooling of your engine is very important. There are several ways to keep your engine cool while protecting your engine investment. Proformance Unlimited has listed several ways of dealing with cooling system issues that may occur with high performance crate engines.
It is recommended that you run a high flow aluminum radiator with electric fans for optimal cooling efficiency. The electric fans should be at least 3,000 cfm for best results.
The four core aluminum radiator should be fitted with all new belt, hoses, clamps and fan clutch. It is very important to have a spring in the lower radiator hose so it does not collapse at high rpm.
Installing a high flow water pump will also aid in moving water through the radiator at a higher rate for just cruising temperatures or when stuck in traffic.
Don't let a too lean condition spoil your idle or cruising down the road. A too lean idle will contribute significantly to produce more heat.
Proper ventilation of the engine compartment is a must. Free flow of air in the engine compartment will allow the free flow of air through the radiator. Simply, with pressure behind the radiator, it won't accept cool air from the front...and thus no cool water in the radiator!
Remember to constantly monitor engine temperature and oil pressure gauges and happy motoring.