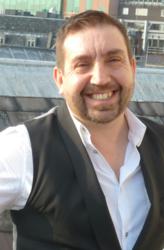 Why are we different? We don't charge margins or fees of any kind, basically disrupting the staffing industry
London, UK (PRWEB UK) 13 March 2012
Superstar's founder Steve Hutson went on the LBC Drivetime show and spoke to presenter Ian Payne, who was sitting in for regular host James Whale. The Drivetime slot has been covering some of the successful businesses which are managing to thrive in London despite the harsh economic climate and Steve was on hand to talk about Superstars unique model.
Ian began by asking Steve, "So, why are you different?" Something Steve was eager to expand upon. "The good news is, we don't charge margins or fees of any kind, basically disrupting the staffing industry."
Steve explained that he has developed working relationships with a a lot of Talent in the digital and creative sectors but that he became fed up of having to charge fees to companies who hired staff through him, which most of the Talent hated. This led to the creation of Superstars' unique payment model.
"I wanted to come up with a new service to make sure I was looking after the Talent more than anything else and just turn everything on its head with a new revenue model that would ensure the Talent were free from that," Steve told LBC.
"We came up with Superstars and the new way, where clients pay us a subscription to access to our assessed Talent and allow us to go and find new people for them at the same time."
SUPERSTARS is a new staffing company with a difference. We want to change the way recruitment works by simplifying payments and by treating our Talent as individuals, not as entries on a balance sheet.
We offer employers a unique and simple staffing model that ensures they get access to the best people in their field with no margins or fees - full stop.
To find out more contact Steve Hutson at steve(at)homeofsuperstars(dot)com or call 07876 332 746.