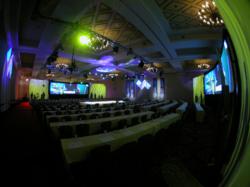 Audiences told us they wanted something more experiential and we delivered.
St. Paul, MN (PRWEB) March 14, 2012
Showcore, Inc., a leading event design and event production company announced the formal launch of their Audience Encapsulation design services platform. Audience Encapsulation was developed to address the limited attention spans of today's audience members which have grown accustomed to interactive and sensory interactions that are the result of our technology culture.
As customers continue to be faced with how they can present information to their audiences,
Showcore responded with an event design solution that addresses this paradigm head-on. These services were built with the intent to provide a Return on Investment (ROI) since event organizers can no longer take the chance that their employees, members, or sponsors will not perceive the message or intent of an event. Live events, and these interactions, are where groups buy into a strategy, where attitudes and culture are reinforced. And that's exactly the principles on which Audience Encapsulation was built on
"Audiences told us they wanted something more experiential and we delivered. By utilizing the technology tools that are at our technical designer's disposal, it is easy for Showcore to engage and captivate audience members so they are immersed and participating in any event environment", stated Steve De Vries, President of Showcore. "After seeing the satisfactory results in relation to audience feedback, our Audience Encapsulation customers' now specify that every event will include experiential environments to help convey and promote their messaging to keep their audiences engaged. It's just a matter of time before more customers learn about the differences and get on the bandwagon," added De Vries.
Any company expending any time and money on branding must think about the implications of their most powerful branding machine – employees, members, and customers and how they are engaged with the brand. Another aspect that has to be addressed is the generational divide between audience members and their expectations of what a meeting should be. Each constituent has expectations so it is imperative that their needs are met. More importantly, Audience Encapsulation can be used as a tool to get your youngest attendees (who will be decision-makers sooner than you think) on board.
Let's face it, everybody has been at a meeting where they didn't want to be there, so put yourself in a meeting planners shoes. How do you engage and captivate a group that has so many different expectations in relation to how they perceive information. Showcore's new design platform is targeted at conveying three main premises, "We respect you and your time", "We are excited about what we are doing" and "We want to convey that energy and excitement to you". A screen, a projector, and a podium just don't cut it anymore.
For more information on our event design services and Audience Encapsulation, please visit Showcore's website at http://www.Showcore.com or call toll free at 1-888-786-8228.
About Showcore
Showcore, Inc. is the leading event design & production services company that turns events into catalysts that drive excitement, innovation, and change. For over 20 years, Showcore has been providing specialized in-house personnel while leveraging one of the largest staging and AV inventories in the nation, by providing turnkey event planning, event design, show logistics and unsurpassed execution for corporate, association and entertainment events anywhere in the U.S. and throughout the world.
###