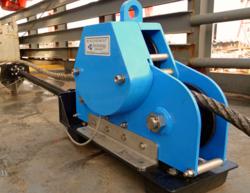 Given the time constraints, MTNW's line riders were a quick and easy way to monitor the existing mooring winches.
Houston, TX (PRWEB) March 13, 2012
Measurement Technology NW (MTNW) announces successful installation and commissioning of winch control systems for two Rowan jack-ups: the J.P. Bussell and the Gorilla II. MTNW collaborated with Applied Measurements of Texas to ensure the winch control retrofit was successful from initial design to final installation and commissioning on several Letourneau W-1500 Anchor winches.
Before the J.P. Bussell (225-C Tarzan class jack-up) and the Gorilla II (200-C Slotilever class jack-up) commenced contract operations in SE Asia last year, they underwent a controls and equipment retrofit in Singapore at the Keppel FELS shipyard. MTNW was brought in during the retrofit by Applied Measurements to provide a new PLC-based controls and monitoring solution for the mooring winch systems which include running line tensiometers, a PLC control station with remote I/O, LCI-90i local displays, and a central computer system combining existing monitoring software with new PLC interface functionality.
"Now that we offer PLC-based winch controls, software for data-logging and the line riders to monitor winch activity, we are providing a full end-to-end mooring solution for customers," said Tom Rezanka, Managing Director of MTNW. "Since we design and build every aspect of these winch control solutions from the steel to the software, we can guarantee better accuracy and faster delivery."
Applied Measurements chose to work with MTNW 3-sheave line riders to monitor the jack-ups' anchor winches. By integrating the line riders with the mooring controls, this system provides accurate and real-time feedback regarding the actions of the operator and the position/tension of the mooring line.
"Given the time constraints, MTNW's cable line riders were a quick and easy way to monitor the existing winches. We chose line riders because load pins are more accurate than hydraulic pressure or electric current in terms of winch monitoring," said Applied Measurements owner, Graeme Cashen. "Their PLC-based control consoles seamlessly integrated with the rest of the system. Every future offshore retrofit we're involved in will have this kind of approach."
"We are pleased to support Applied Measurements and Rowan with this retrofit," said Rezanka. "We look forward to bringing new control and monitoring solutions to our customers in 2012."
Measurement Technology NW, a Seattle, Wash. based company, provides a wide range of precision winch monitoring and control products, including the LCI-90i and LCI-80 (winch displays), WinchDAC (winch monitoring software), PLC Winch Controls, running line tensiometers or line riders, and much more.
Applied Measurements, Inc., a Harlingen, Texas based company, is dedicated to the supply of equipment and services for load cell applications, monitoring, instrumentation and controls. http://www.appliedmeasure.com
Call us at 206-634-1308, or send an email to lci(at)mtnw-usa(dot)com.
Measurement Technology NW / 4211 - 24th Avenue West / Seattle, WA 98199 / http://www.mtnw-usa.com