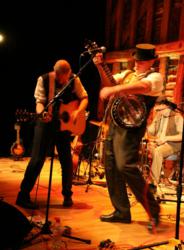 Rough-hewn Americana with an authentic rolling energy
Norfolk, UK (PRWEB UK) 13 March 2012
Some of the most exciting discoveries in 'pop' are coming from the rootsier end of the spectrum. Artists like Mumford & Sons and Adele prove that authentic, unfussy presentation has broad appeal. Acts like Seasick Steve and the UK's Fisherman's Friends show grizzled features are no barrier to success.
Now UK band The Proposition release a debut album King Snake, Devil Shake which proves again the attraction of stirringly memorable songs and charismatic performance, by artists who have 'lived a life'.
It's in the authenticity of The Proposition themselves that the magic of King Snake, Devil Shake lies, because they write and sing from a compellingly honest adult perspective in a music industry obsessed with youth. In fact the album (released March 26th 2012) is full of youthful energy and musical vim (as are their live performances). But the album's lyrical themes are those of men who have themselves raised families to adulthood and who have battled as only 50-somethings can have done with love, faith, regret, death, and all the other messy elements of the human condition.
It's tough to pigeonhole The Proposition. Arguably they are a 'folk' group, if only in the sense that their instrumentation is largely acoustic (acoustic guitars, banjos, slide guitar, mandolin, drums, and a smattering of bass). But they are a very long way from purist folk and from the introspective singer-songwriter approach: they are storytellers rather than confessors.
And whilst the music carrying the stories is deceptively simple in construction, it is big and muscular in presence and impact, especially when you consider The Proposition is an acoustic trio. The band's performances owe much more to the celebratory energy of rock artists like Springsteen or The Hold Steady and the fearless swagger of the likes of Steve Earle or Johnny Cash than to youthful sensitivities or to any kind of folk conventions. Critics meanwhile have compared them to The Band, The Pogues, and The Men They Couldn't Hang.
Roots and folk media have been catching on to the band's appeal, as early reviews indicate:
"Thought provoking, foot stomping, mouth licking good." BLUES MATTERS
"Cleverly written lyrics and memorable melodies" MAVERICK
"Rough-hewn Americana with an authentic rolling energy" FOLK AND ROOTS
"A trio of supreme raconteurs. Grit, wit and loads of fun." COUNTRY ROUTES
"Authentic old-timey Americana with roughly hewn, melody rich, acoustic roots." ROCK'N'REEL
Perhaps the closest comparisons musically are the USA's Avett Brothers and Felice Brothers, but for the very clear 'Englishness' of The Proposition's aesthetic.
In one sense their debut has been three years in the making (the time The Proposition has been performing as a trio) but its gestation period is really closer to two decades. Singer/guitarist Simon Middleton, drummer/slide-guitarist Steve Clark and bassist/banjitarist Nigel Orme have been performing together in varied line-ups and genres since the end of the 1980s.
Their long musical apprenticeship has seen them play support slots for artists as different as Jools Holland and Rev. Peyton & His Big Damn Band, as well countless shows on the UK roots and small festival circuit.
King Snake, Devil Shake was produced by Nick Brine at the legendary Rockfield Studios. Brine (who has produced Seasick Steve, K T Tunstall, Teenage Fanclub and The Darkness), has captured the band's clattering harmony-rich energy to create an uplifting genre-busting 'pop' record, rich with melodies, steering-wheel-slapping rhythm, slide guitar hooks and giant sing-along choruses.
Put aside expectations of what mould a folk/country/rock band should fit, and open your ears to a crossover act like no other on the scene at the moment. This unlikely debut might be about to create the year's most surprising and original pop-stars.
King Snake, Devil Shake is released on the band's own label Cowboy Town Records on Monday March 26th and will be available on iTunes, Amazon and leading digital outlets. The CD album version, with lyric booklet and deluxe packaging is available from the band's website.
For more information and the latest show dates, please visit: http://www.thepropositionband.com
For media enquiries and interview requests, please contact: Simon Middleton at simon(at)banjosdirect(dot)co(dot)uk or on 07890 260312.