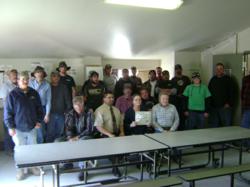 Terry Petko Director of EHS Stated:
"We are very proud of all the NWP employees for their dedication and commitment to our company values. This is a big milestone for NWP and sets the bar for all of our facilities."
Silver Springs, NV (PRWEB) March 14, 2012
The Safe Partner award is given to recognize employers and their employees for their efforts at building and maintaining a safe workplace. A variety of criteria must be met to be eligible for the award, including conducting a SCATS survey, management and employee participation in training and management implemented changes to improve safety.
"We are very proud of all the NWP employees for their dedication and commitment to our company values. This is a big milestone for NWP and sets the bar for all of our facilities," said Terry Petko Director of Environmental and Safety Compliance for the Pacific Wood Preserving Companies ("PWP"), of which NWP is a member.
SCATS held an award ceremony at the NWP plant to celebrate the Safe Partner award. Dan Young, NWP Plant Manger, especially singled out NWP employee Janie Silliman, the plant's safety director, for her efforts. Young said, "This was definitely a group effort that involved every employee, but I would be doing an injustice if I did not acknowledge Janie's exemplary work to keep our employees, our environment and our community safe." NWP received a certificate that will be displayed in the company's office.
NWP is a member of The Pacific Wood Preserving Companies. PWP owns treating plants in Oregon, California, Nevada and Arizona, as well as a manufacturing facility in Texas. For more information, visit http://www.pacificwood.com.