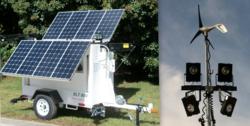 We are excited about the growth of the solar powered light plants and its reception by some of the largest entities in the U.S. who want to reduce operating costs and carbon emissions. A Win, Win!
Raleigh, NC (PRWEB) March 13, 2012
Progress Solar Solutions™, LLC is adding an additional Solar Light Tower production facility in Raleigh, NC to meet its growing demand. The Progress Solar™ and Progress Solar/Wind™ Light Towers resemble a traditional portable diesel light plant but are powered up to 100% by free renewable energy instead of diesel fuel. The benefits… NO diesel fuel, NO noise, and NO carbon emissions…Just bright lighting, on-demand, where and when you need it!. Progress Solar™ serves industries including construction, oil & gas, mining, military, border patrol, security, nuclear power plants & public utilities, disaster recovery, airports, sporting & recreational events and the equipment rental companies that serve them.
The Progress Solar/Wind Light Tower series is made in multiple locations in the U.S. and operates independent of diesel, gas or the electric grid eliminating the use of fossil fuels or generation of carbon emissions. The Solar Light Plant is a rugged, mobile light system that provides high-intensity, bright white lighting. It is equipped with high power generation Solar Modules housed on automated solar wings that are positioned toward the sun to capture its energy; combined with a Wind Power generator located at the top of the light mast; four (4) custom solid-state LED flood lights with high lumen output; and a no maintenance, long-life Power Module to store energy for use when needed at night or during in-climate weather. The light towers are fully adjustable from 12-30ft in height, able to tilt up/down and can rotate ~358 degrees. The solid-state LED flood lights provide a tremendous amount of light with very little power required; instant-on/off with no flickering; extremely reliable, vibration and shatter resistant; and designed to provide up to 5x longer run time between bulb changes than metal halide lights. The Solar/Light Control Module protects the system from over or under charging and the lights can be turned on/off automatically from dusk-to-dawn, at user-programmable time intervals or manually on-demand. The system is on a portable trailer customized for maximum functionality and convenience that can be easily towed to its destination.
Dan Robertson, a partner for Progress Solar Solutions, commented, "We are excited about the continued growth of this unique portable solar/wind powered outdoor lighting plant and the reception and repeat orders from some of the largest private and public entities in the U.S. They are taking positive steps to reduce both their operating costs and carbon emissions… This is a Win, Win for Everyone!"
About Progress Solar SolutionsTM LLC
Progress Solar Solutions, LLC is a privately held company located in Apex, NC that provides high-performance, eco-friendly and cost-effective solar and lighting solutions for commercial, industrial, government and institutional applications. For more information on Progress Solar Solutions, LLC or the Progress Solar Light Tower, call (919) 363-3738, x405 or visit http://www.ProgressSolarSolutions.com. Click to View Solar/Wind Light Tower Video Now.