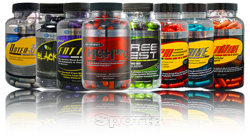 Don, Tanya and Dirk have built a top notch company and I'm very excited to have the opportunity to build upon their success!
Charlotte, NC (PRWEB) March 14, 2012
Applied Nutriceuticals® is excited to announce that they have sold their assets to a new owner, Mr. Lance Rankin. Mr. Rankin brings with him vast industry experience as the former owner and CEO of Premier Nutrition, which he sold in October of 2011. His knowledge of the industry, combined with the strong brand image and product portfolio of Applied Nutriceuticals create an ideal platform for exponential growth in the near term. Mr. Rankin quotes, "Don, Tanya and Dirk have built a top notch company and I'm very excited to have the opportunity to build upon their success!"
One caveat of the transaction is that the new company, Langoost, LLC d/b/a/ Applied Nutriceuticals will no longer be carrying the concentrated pre-workout product LIT-UP™. That product is currently being divested by the original owners to a separate buyer. "We have several strong candidates interested in adding Lit-Up to their current product mix," said Don Orrell, former president and co-owner. "I imagine it will take about 30 days to consummate the transaction and make the appropriate packaging changes to re-introduce it to the market with minimal disruption. We'll share those details as soon as they become available."
Staying aboard long term is former co-owner and COO Mr. Dirk Tanis. Mr. Tanis will continue in his role of overseeing all of the product formulating and R&D. "I'm very excited to be part of this new team and we have numerous new product ideas - I think you'll see us launching more products faster than he have in the past few years."
The future of Applied Nutriceuticals is bigger and brighter than ever, the principles would like to thank their loyal fans, friends and customers that have brought them to this milestone. In the upcoming months , the company will be introducing including new and innovative products as well as enhancing features on the website that will make your experience more personal than ever before. As always, if you have any questions at all, please feel free to contact us at (704) 509-5999 or email us at customerservice(at)appliednutriceuticals(dot)com.
Founded in 2006, Applied Nutriceuticals continuously pioneers the most effective products in the supplement industry. Their mission is to develop, manufacture and market high-performance nutritional supplements that deliver safe, consistent and measurable results while never forgetting their primary purpose for existing: to serve their customers. Every product is made in their state-of-the-art cGMP facility located in Charlotte, NC.
###