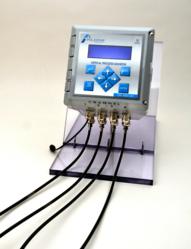 Needham Heights, MA (PRWEB) March 14, 2012
Polestar Technologies (http://polestartech.com/), a leading provider of innovative sensing technologies and sensor systems for the biotechnology, pharmaceutical, regenerative medicine, biofuels, and food/beverage markets is pleased to name Steve Grant as Vice President of Global Sales. Steve has more than 20 years of sales, sales management, and leadership experience in the field of sensing and monitoring products. Mr. Grant will have responsibility for all strategic and tactical sales initiatives for the Polestar Technologies' Products Division.
Mr. Grant commented, "I am thrilled to be with Polestar Technologies and eager to bring the company's innovative sensing product line to new customers worldwide."
According to Rusty Warren, President of the Products Division, "Polestar Technologies' Products Division has grown 40% year over year since 2009, and hiring Steve marks our commitment to further increasing our footprint in the global marketplace."
For more information about Polestar Technologies and its line of optical sensing products—like the only 3-in-1 monitoring system on the market for measuring O2, pH, and CO2 simultaneously—please visit: http://polestartech.com/products/.
About Polestar Technologies, Inc.
Founded in 1993, Polestar Technologies Inc. is a leading provider of optical monitors, sensors, and probes for lab, industrial, and commercial applications. Polestar manufactures monitors and sensors that are the standard for accurately measuring oxygen (O2), pH, and carbon dioxide (CO2) and makes the only monitor that measures all elements at once. The company also produces a variety of single use (disposable) sensors to service a variety of industries with a focus on the biotechnology and pharmaceutical (biopharma) and bioprocessing industries. In addition to its products, Polestar has a technology consulting division and also conducts sensor research and technology development for NIH, NASA, and DARPA as well as other government agencies. Polestar's sensor products are the direct result of that research and are used by Fortune 100 companies worldwide. For more information, please visit http://www.polestartech.com/.