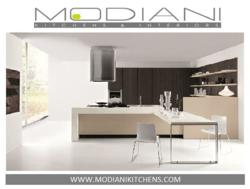 Modiani is always pushing forward with interesting ways to display modern kitchen design in NJ.
Englewood, NJ (PRWEB) March 14, 2012
Modiani Kitchens recently held an Israeli wine tasting at their showroom in Englewood on February 18th. This event was attended by many customers and friends in order to network and connect. The event centered on a few things: expertly crafted Gush Etzion Israeli wine, delicious, catered food designed to pair well with the wine, and the beautiful surroundings of Modiani's modern kitchen designs. Modiani's guests ate branzino fish tied with scallions and stuffed with feta and cherry tomatoes while drinking Gush Etzion's special Emek Habracha wine and attending presentations on healthy food and other kitchen-related subjects. All of the chefs employed Modiani's kitchen supplies to present the accompanying dinner to the guests.
Modiani has also just recently released a large line of modern design chairs imported from an Italian manufacturer. These chairs come in a wide variety of colors and shapes to suit every lifestyle and design perspective. These chairs range in style from elegantly minimalistic to nearly expressionistic without ever becoming gaudy. The chairs are made from a variety of substances from such as chrome, leather, aluminum, and various textiles. There are a variety of colors and shapes such as the red hollowed box of the cube design or the Cono SG, which almost resembles a black hollowed eggshell on a stand. These unique designs will lend an air of modernity to your home, and will certainly impress houseguests.
Modiani's pride is, of course, its landmark kitchen designs in NJ. These styles are also imported from Italy, though they are arranged and implemented by Modiani here in New Jersey. Kora and Kalea are our two latest designs, and both are unique and fascinating in their own ways. Kora's uniqueness comes from its ability to be arranged in many different ways because it is built up of open units that have varying dimensions. One can arrange Kora's oak matrix laminate units in various ways depending on the size and shape of their kitchen. Kalea's uniqueness, on the other hand, stems from its beautiful, elegant gloss lacquers and the fact that its composite units do not come in sizes and shapes that are traditional for normal kitchen components. These types of modern, unique designs are a hallmark of Modiani's specialty with Italian products in the kitchen design industry.
Modiani is also pushing into the future with further events and designs to please friends and customers alike. On March 20th Modiani will be holding an event in tandem with Sub Zero Refrigeration, one of the most highly regarded kitchen appliance companies in the United States. Modiani and Sub Zero will be holding an evening cooking demonstration to showcase some of each company's appliances, kitchen accessories, and arrangements. Similar to Modiani's Israeli wine tasting event, this event will be a fun showcase for guests and customers to enjoy themselves while attending presentations on food, kitchen design, and other related subjects. Be attentive for other fun events in the future, Modiani is always pushing forward with interesting ways to display modern kitchen design in NJ.