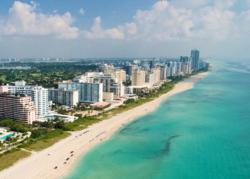 Brazil has enjoyed fast growth despite the world economy's tough times and continues to offer great potential for investment in U.S. realty
Miami, Florida (PRWEB) March 13, 2012
Muller Group Investments (MGI), a real estate brokerage and development firm based in South Florida, is quickly establishing its position as a realty leader that is connecting Brazil's flourishing economy to a world of opportunity in residential and commercial real estate in North American markets, including South Florida, Central Florida and New York.
With a healthy inventory of condos and single-family homes in South Florida, investment-minded buyers from Brazil and other Latin American countries are scooping up properties thanks to the attractive prices and opportunity to acquire a piece of the American Dream.
Miami is known worldwide for its vibrant upscale lifestyle, which includes condos on beachfront properties and majestic homes in upscale communities, and many of these prime realty properties have made it into the market through short-sale and foreclosure offerings.
And residential realty is not the only hot item in the market since commercial properties are equally attractive to buyers who come to the U.S. ready to build real estate portfolios to include retail and office space in Florida's top business sectors.
"Brazil has enjoyed fast growth despite the world economy's tough times and continues to offer great potential for investment in U.S. realty", says Marcelo Muller, Founder of Muller Group Investments. "We meet the needs of Brazilians in their native Portuguese language, attracting buyers interested in owning real estate properties in Florida and New York".
The Muller name is highly respected since the family has built a strong reputation for excellence and a lasting legacy—and MGI is living up to this reputation with the launch of an ambitious program to connect buyers in Brazil and other Latin American countries to the opportunity of attractively-priced properties in the U.S.
Muller adds, "Brazilians love America and our goal is to connect financially-secure individuals and businesses to residential and commercial properties in the U.S. that meet their hunger for growing their realty investment portfolios".
With Brazil already being regarded as the fastest-emerging country in Latin America, the U.S. real estate market has reached new levels of media attention in recent months, enough to have President Barack Obama make a special mention of its changing trends during a recent address at an Orlando theme park.
Opportunity abounds in the U.S. real estate market for investors seeking a chance to take advantage of the dynamics of the current economic environment, where inventory is bountiful and property prices are still low.
ABOUT MULLER GROUP INVESTMENTS
Muller Group Investments (MGI) is a premier real estate brokerage, development and investment realty firm representing buyers, sellers and renters in residential, commercial and industrial real estate markets throughout Florida and New York. MGI covers a diverse range of properties and provides a complete menu of real estate services to meet the opportunities and challenges of the realty market. As a global real estate company, MGI's multilingual staff of real estate agents serves markets in the United States, Latin America (including Brazil), Europe and Canada from its offices in Miami, Fort Lauderdale, Orlando, New York, Sao Paulo and Paris.
To learn more about MGI's real estate services and markets, please visit http://www.MGIrealtyUSA.com.
MEDIA CONTACT:
Jose Riera
Phone: (305) 371-9192
Email: press(at)mgirealtyusa(dot)com