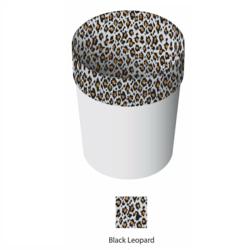 "Designerliners are a great, green way to dispose of trash. The unique prints also have the ability to spice up any room," says Greg Boyce with One Stop Green.
Houston, Texas (PRWEB) March 12, 2012
One Stop Green is proud to offer DesignerLiner products, made from a revolutionary additive technology that makes it biodegradable while maintaining the other desired characteristics of plastic products.
DesignerLiners are fully biodegradable in 9 months to 5 years, are fully biodegradable wherever they are disposed of (where other things are biodegrading - anaerobically and aerobically), are of course recyclable, do not use heat, light or mechanical stress to break them down, do not require special handling, and do not contain any heavy metals. Finally anyone can smile at their very own trash! These decorative, disposable, reusable, biodegradable liners, are made in the USA, and include the pattern or logo on the inside of the liner. Biodegradable finally meets fashionable, so can "dress the mess" and become a fashionista!
One Stop Green has chosen a variety of styles for any home or business. DesignerLiners are available as custom orders, but they do have minimum order quantities so please contact One Stop Green for more information. With the economy so tight, spruce up any room on the cheap and you cannot only smile, but even chuckle at how a waste basket is transformed without spending a dollar. DesignerLiners are a positive step to a cleaner planet because sometimes it's the little things that add up to a huge benefit.
One Stop Green, LLC facilitates environmentally friendly improvements to residential and commercial properties through distribution of green, energy efficient equipment. They offer every product needed for sustainable energy independence; enabling homeowners, businesses and commercial property owners to master their usage by reducing waste, producing renewable energy from within, and implementing efficient energy consumption methods. Their goal is to provide user friendly and practical long-term solutions to existing inefficiencies in your present system(s). Their carefully selected products and professional installers offer a higher level of satisfaction and service for our customers.
Contact:
Nathan Kaufman
http://www.OneStopGreen.com
P: 877.449.9110|O: 713.541.2739|C: 210-846-5900
###